Gov. Cuomo cites health risks; Pa. governor-elect opposes ban
A gas well in Susquehanna County, PA. | Photos courtesy Delaware Riverkeeper Network
In a major win for fracking opponents, New York State Gov. Andrew Cuomo on Wednesday announced that the state would ban high volume hydraulic fracturing, citing health risk concerns and the lack of studies that show it can be done safely, the New York Times reported. Approximately 40 percent of the state sits over the Marcellus Shale natural gas formation, Grist reports.
The highly controversial method of extracting natural gas, or fracking as it's more commonly known, was often brought up as a source of economic revival for communities along New York's border with Pennsylvania, the Times reported. Despite Cuomo's dedication to solve the financial woes of those communities, the New York governor conceded there were too many issues involved to allow it.
A large fracking water impoundment in Susquehanna County.
"I've never had anyone say to me, 'I believe fracking is great,' " he told the Times. "Not a single person in those communities. What I get is, 'I have no alternative but fracking.' "
Many in bordering Pennsylvania praised Cuomo's move, including Maya van Rossum, the Delaware Riverkeeper.
"Governor Cuomo has made the right decision for the right reasons—he required technical analysis and comprehensive inquiry from his Administration's qualified experts; he gave his agencies the arm's length they needed from the push and pull of politics; and he allowed science to inform the policy decisions that were needed," van Rossum says. "We applaud and thank Governor Cuomo and New York for applying caution and clear-headed reason in reaching this historic decision. This will surely lead the way for other states, especially Pennsylvania, where a new Governor will be taking the helm and making policy decisions regarding the ravaging impacts of fracking and in the Delaware River Watershed, where a tentative drilling moratorium is in place."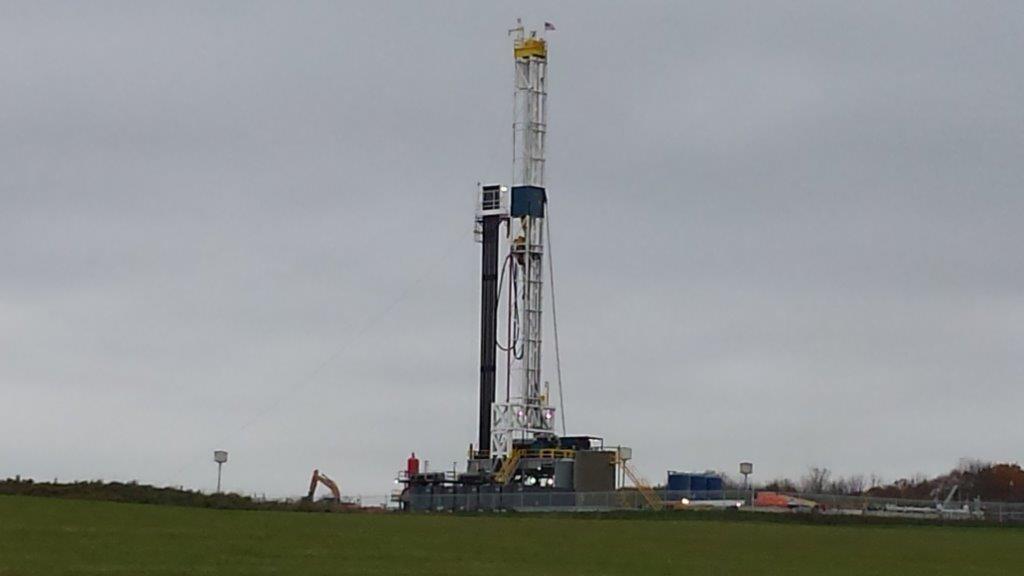 However, Pennsylvania governor-elect Tom Wolf stated he disagrees with Cuomo's administration decision and reaffirmed his stance that the state won't be following New York's lead, PoliticsPA reported:
When asked by PoliticsPA if he supports the actions of Gov. Cuomo, Wolf's camp was clear.
"Governor-elect Wolf opposes a ban, and he will work hard to make sure the process is safe," responded Jeffrey Sheridan, Press Secretary for Wolf's transition team.
"Pennsylvania's natural resources should help the commonwealth become an energy leader, including renewable energy and energy efficiency, as well as a magnet for investment and job creation," he continued. "Governor-elect Wolf's priority is to ensure that Pennsylvania is an energy leader with all Pennsylvanians sharing in the prosperity."
A fracking pit in Washington county, Pennsylvania.