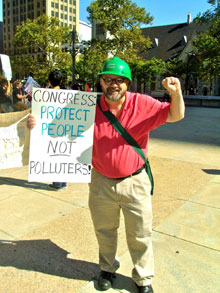 Clean Air Council Executive Director Joseph Otis Minott, Esq.Ever since the Clean Air Act came into being in 1963, there have been forces trying to subvert it. Since 1967, the Clean Air Council (CAC) has been fighting back, relentlessly defending the tenets of the act on behalf of the citizens of Pennsylvania, Delaware and New Jersey.
In 1982, Joseph Otis Minott, Esq. was hired by CAC as a staff attorney, fresh out of Villanova Law School. One of only a handful of employees, his first major project was successfully suing the Commonwealth of Pennsylvania to implement an auto emissions inspection program. That case was the first step in Minott's career in environmental justice and legal activism in the name of clean air. By 1986, Minott had become both executive director and chief counsel. Under his leadership, CAC has grown into a robust organization with 7,000 members, 36 employees and offices in Harrisburg, Erie, Wilmington and Philadelphia.
Minott estimates that CAC has filed more lawsuits over the years than any environmental group in Pennsylvania, but he remains modest about his influence on CAC's growth and success. "Our organization is a great collection of mostly young, really dedicated people," he says. "We have attorneys, planners, special events people and others, all putting in long hours and working for small salaries."
To find out more, visit: cleanair.org.
Story by Emily Kovach.