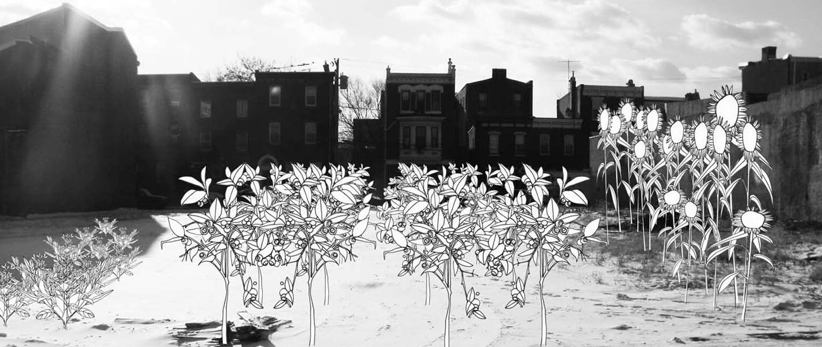 The Knight Arts award will go toward Little Berlin's Fairgrounds project to transform an empty lot into an outdoor artspace. | Image via littleberlin.orgIn our new June issue, we feature the Philadelphia Sculpture Gym, a new co-working space in Fishtown that offers the tools and support for woodworking, metalworking, moldmaking and casting in a community setting. The project was jumpstarted after co-founder Darla Jackson received funding last fall from the Knight Arts Challenge. The award, presented by the John S. and James L. Knight Foundation, is given to local, innovative arts projects that engage the community. A few weeks ago, the Knight Foundation announced their second round of award winners. From the more than 1,200 submissions, 35 ideas were funded, amounting to $2.76 million.
Here are some examples from the 35 winners:
– The Clay Studio is launching a "guerilla mug assault" to study the relevance of handmade ceramic objects. In timed, unannounced "assaults" handmade mugs will be given to people leaving coffee shops (along with their paper to-go cups), encouraging them to blog about their experiences using the mug.
– Little Berlin, an artist-run collective and exhibition space in North Philadelphia, is working to transform a vacant lot in East Kensington into a community outdoor visual art and performance space.
– COSACOSA art at large is also working with empty lots, although their project, located in the Nicetown-Tioga neighborhood, will transforms spaces into community visual and sound gardens.
– The Galleries at Moore College of Art & Design are introducing an outdoor independent film series on the Ben Franklin Parkway. The summer series will feature local artists and filmmakers and have refreshments provided by Philadelphia food trucks.
A third round of the Knight Arts Challenge will open this fall. For a full list of this round's winners, visit theKnight Arts website.