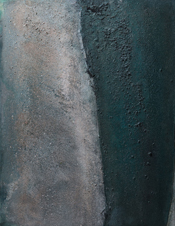 Elaine Kurtz, Untitled, 2002, Image via Canary Promotion Last week, we reviewed South Philly artist Shelley Spector's "Dreck Groove" exhibit on display at Breadboard's Esther Klein Gallery. The exhibit (February 17 to March 30) features Spector's use of reclaimed materials to display embroidery representing recent natural disasters.
But Spector isn't the only artist showcasing environmentally-centric work this month.
Philadelphia artist Elaine Kurtz, known for her nature-based work, has two exhibits at the Woodmere Museum this spring. A Retrospective is a celebration of her abstractions that use mud, sand and pulverized minerals. Elemental will incorporate other Philadelphia artists who also use nature as inspiration. The entire exhibit, A Retrospective and Elemental: Nature as Language in the Works of Philadelphia Artists, will be open Feb. 17 to April 22.
A tree at the Schuylkill Center in a "knit bombing" wrap by fibers artist Melissa Maddonni Hiams. Image via Schuylkill Center At the Academy of Natural Sciences, Boston photographer Rosamond Purcell is showing photographs of never-before-seen specimens. Purcell was fascinated with the animals, fossils, plants and artifacts the Academy keeps preserved and wanted to expose their unique characteristics in a new light. Choosing from a pool of 18 million specimens, she photographed a select few on the roof of the six-story museum. Everything Under the Sun, open March 3 to May 20, is a 20-photo exhibit revealing the hidden (and sometimes frightening) wonders of the Academy.
And for a chance to get outside, the Schuylkill Center for Environmental Education is opening a new outdoor installation this weekend. Cold Comfort features more than 30 trees dressed in "knit bombing" wraps by Philadelphia fibers artist Melissa Maddonni Haims. The wraps are mostly made from recycled, reclaimed and rescued materials. The exhibit continues in the Center's indoor gallery with samples and photos of the artist's knit bombing around the city. The installation is running February 24 to April 30, with a special Knitty Gritty opening reception and workshop this Saturday, March 10 from 1-4 p.m.