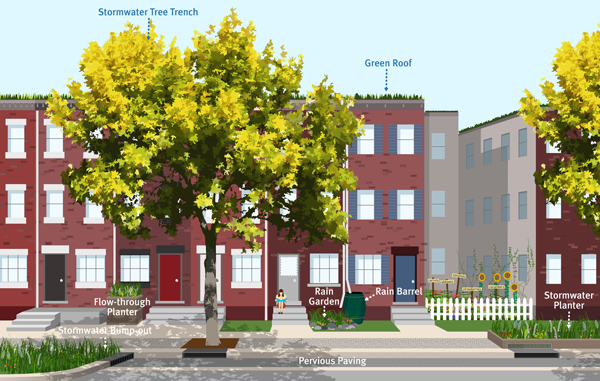 story by Claire Connelly
It's all about runoff. When precipitation from rain or snowmelt flows over the ground, impervious surfaces like streets and sidewalks keep the water from naturally soaking in, creating stormwater runoff. This can be problematic on several levels. Runoff erodes rivers and streams, and causes flooding. Stormwater also picks up debris, chemicals and other pollutants as it flows into sewers, eventually making its way into the rivers, lakes and streams we use for swimming, fishing and drinking water. As land development increases and permeable surfaces decrease, runoff becomes harder to control.
Luckily, we live in one of the most proactive cities in the country when it comes to managing stormwater, alongside Chicago, Seattle and Portland. The Philadelphia Water Department's (PWD) use of green stormwater infrastructure is a key component of the city's Greenworks plan.
"Uncontrolled stormwater is the root of all evil," says Marc J. Cammarata, Manager of Watershed Planning and Engineering for the Office of Watersheds. "We're trying to control stormwater using the most natural process, with limited funds." The goal is to replicate Mother Nature's way of getting the water back in the ground by using a variety of soil-water-plant systems and intercepting stormwater runoff before it enters the city's sewer system. Stormwater planters, rain gardens and green roofs are great examples of green infrastructure changes that have helped reduce flooding and sewer overflow, improving water quality.
Philadelphia residents can also reduce stormwater's unwanted flow by utilizing rain barrels. These collection containers store rainwater from your roof that would otherwise end up in storm drains and streams. The rainwater can then be used for purposes such as gardening, watering the lawn, cleaning outdoor furniture or washing your car. Rain barrels reduce homeowner water bills while decreasing stormwater's negative environmental impact—a win-win situation. Rain barrels can be found at your local home and garden store. This spring, PWD will again offer them at no charge to people located within the watersheds of Philadelphia who attend a mandatory rain barrel workshop. ■
Visit phillywatersheds.org for more information.