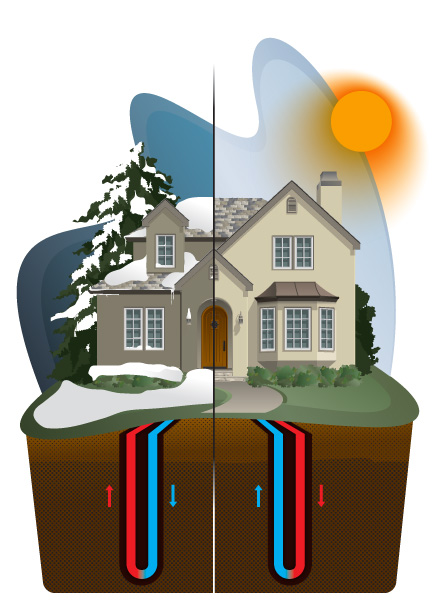 by Claire Connelly
Each year, as fall comes to an end, Philadelphians brace themselves for another long heating season. Though the weather has been milder in recent years and we're able to wait a bit longer before cranking up the thermostat, the winter months can still have a devastating effect on our wallets and the environment. That's why more Americans are turning to a cleaner and more cost-effective form of renewable energy: geothermal.
Geothermal energy, which utilizes heat retained within the Earth's core, is not a new concept. In fact, its origins date as far back as the Paleolithic Era, when hot springs first served as a source of warmth and cleansing. In the 1800s, settlers began building homes near springs and geysers in the western United States, taking advantage of the natural heat they provided. Geothermal technology continued to progress through the early 1900s with the invention of a heat pump designed to force heat to and from the ground.
Today, geoexchange or ground source heat pumps have gained popularity due to high fossil fuel prices and a growing awareness of the effects of carbon emissions. The earth's constant temperature makes the use of these pumps one of the most efficient heating technologies available. Since ground source pumps are merely transferring heat from the ground to your home, no fossil fuels are burned (typically, electric power is used only to operate the unit's fan, compressor and pump) and carbon dioxide emissions are greatly reduced, creating an extremely clean and environmentally-friendly heating option.
Though the installation can be more costly than regular heating systems, the benefits are seen over time with 30 to 40 percent lower energy bills, according to the Environmental Protection Agency. The U.S. also offers a 30 percent tax credit for homeowners who install geothermal heat pumps, and in Pennsylvania, the Keystone Home Energy Loan Program (HELP) provides financing and rebates for high-efficiency improvements, including geothermal systems. "Interest [in geothermal] has grown in the last two years," says Don Hull, owner of Ground Source H.V.A.C. (Heating, Ventilating and Air Conditioning) in Media. "And the 30 percent tax credit with no limit is the reason."
If you're considering geothermal for your home, Hull, who's been a home energy advocate for over 30 years, emphasizes the importance of following the proper steps before installation. "Start by getting a home energy audit, then call Keystone HELP and line up financing," he says. Next, homeowners should have their household energy demand calculated, then go back to Keystone HELP with a price. The loan will include the cost of renovations and the geo-installations.
For more information about geothermal installation, visit groundsourcehvac.com and keystonehelp.com