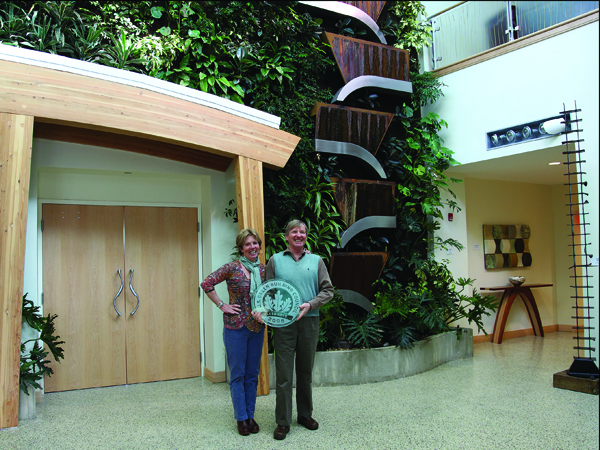 A local shoe designer gets LEED-certified
by Natalie Hope Mcdonald
When it was time to expand its headquarters, shoemaker Dansko put its best foot forward and went green. The footwear designer may be best known for its comfortable clogs, sandals and shoes inspired by traditional Danish design, but as of this year, this suburban Philadelphia-based company was awarded LEED Gold Certification from the U.S. Green Building Council for Leadership in Energy and Environmental Design, thanks to a multi-million-dollar building project at its new 80,000-square-foot headquarters in West Grove, PA.
This eco-conscious company also received the first LEED Innovation Credit in the state for using Green Advantage-certified contractors W.S. Cumby, Inc., based in nearby Springfield.
"From day one, Dansko has always had a philosophy of philanthropy and to be a good corporate neighbor," says Marc Vettori, the company's employee relations manager. "Part of the heritage is to focus on being reusable and earth-friendly."
Vettori says Dansko has been taking small steps for years to reach the point of being energy- and ecologically-efficient. The company even has its own Green Team committee and Clog Log newsletter, which shares helpful tips about everything from recycling to trading in plastic for reusable grocery bags. "It's ingrained in our culture," says Vettori, who claims that most Dansko employees get so used to the culture that they tend to take these habits home to share with family and friends.
Visitors to the new headquarters also get a crash course in going green. They're not only greeted by company founders Mandy Cabot and Peter Kjellerup's two friendly dogs, but by one of the largest "living walls" in the Philadelphia area, a two-story vegetative divide that's fed entirely by solar energy, a special air filtration system and repurposed rainwater.
"We wanted to reduce overall consumption and improve resource management around the building," explains company spokesperson Cara Hungerford.
"We wanted to act as an example," adds Hungerford, who says Dansko worked with architectural firm Re:Vision in Manayunk to create the green office space. The headquarters was designed to take advantage of available resources, like natural light and rainwater. Large windows with solar shades, for example, keep sunlight out in the summer and warm the office come winter.
The facility also features curved roofs that collect rainwater, which is used in toilets and for irrigating the vegetative roof, a lunchtime sanctuary for the staff thanks to its exotic plant life and sprawling views. "The green roof reduces the overall temperature and manages storm water runoff," says Hungerford. "And triple-pane windows and smart lights adjust when sunlight is present."
Even the flooring and countertops are made from locally-produced, post-consumer materials. And the paint used in the facility contains no VOCs (volatile organic compounds), which Hungerford says reduces the need to repaint and creates a healthier work environment.
People who visit Dansko's retail outlet for a new pair of kicks or to take a tour of the eco-friendly facility often say the office doesn't look or smell like most offices. There are no fluorescent lights and the entire HVAC system is located underneath the floor, creating soaring ceilings with an abundance of natural light. It also allows employees to adjust heating and cooling via personal floor vents to regulate variable temperatures.
The almost 150 employees also enjoy parking lots with grass pavers that catch rainwater and several storm water ponds on campus, not to mention gourmet kitchen, lunchroom and childcare facilities, as well as a yoga and fitness room open during the workday. Overall, Dansko clocks fewer sick days and overall lower energy costs, claims Hungerford. And 100 percent of the company's electricity comes from renewable wind power.
"The project has pushed all departments to be more efficient," says Hungerford, who adds that all paper is recycled and all marketing materials are printed on 100 percent post-consumer waste paper. Even the IT department does its best to reuse tech equipment.
"Getting LEED-certified was the next step for us," says Vettori. "The new building ties into everything else that's going on with the company culture."
In fact, Dansko's sustainability can even be tracked among employees, who each receive 16 hours of paid time to use for volunteering within the community.

"Last year we exceeded our goal, and 112 people out of 130 used the bulk of their hours to volunteer," says Vettori. This year, they're already way ahead of that goal.
So what's next for Dansko? A second LEED certification, says Vettori, this time for excellence of an existing building. He assures that the company is always looking for better ways to improve upon its efficiency, one step at a time.