Have an event that will fit well on our calendar?

Print Memory – Reimagining Clothing and Textiles with Screenprinting
December 8, 2022 @ 6:30 pm

-

8:30 pm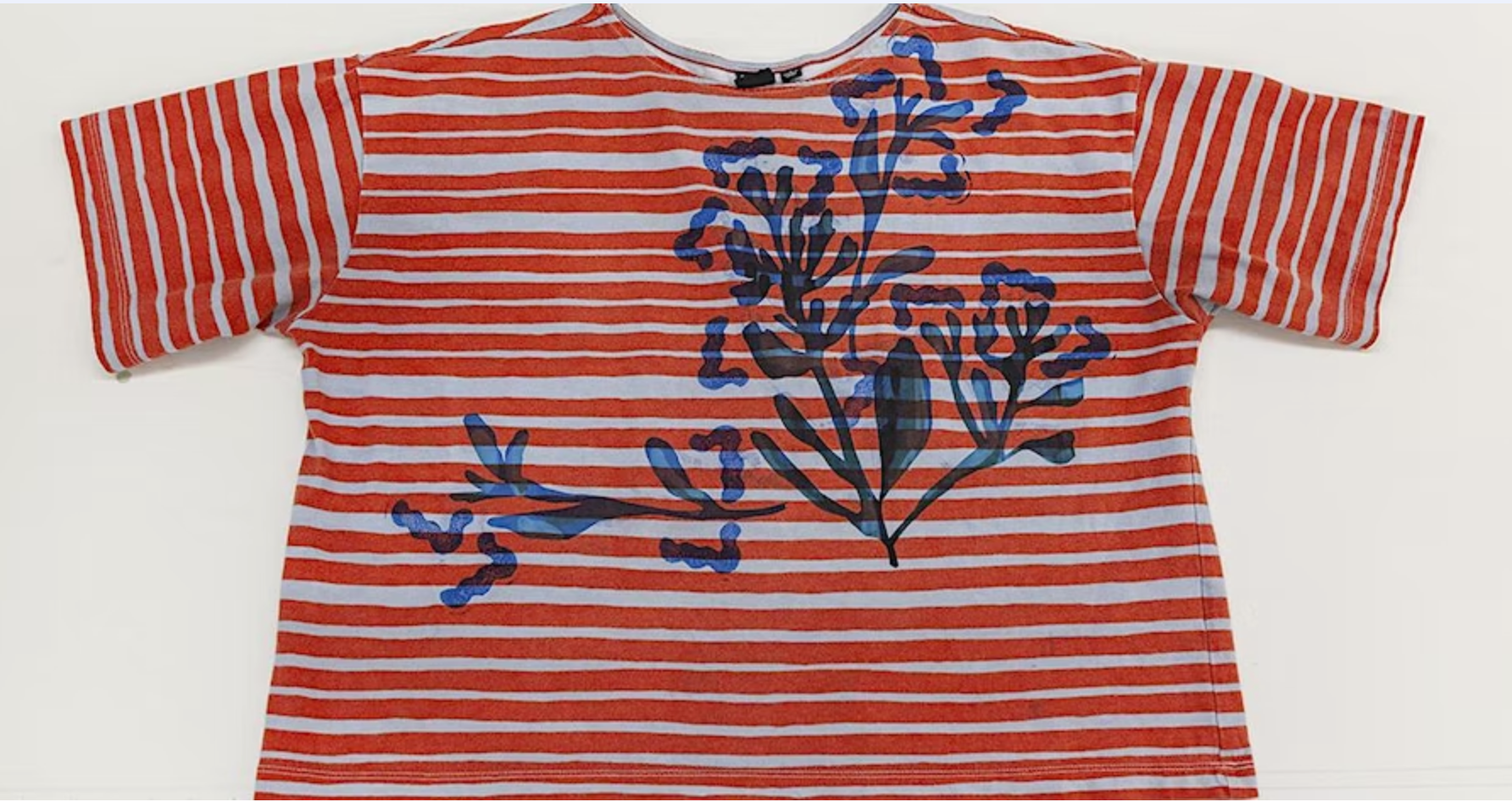 Fabric Workshop and Museum's educators will introduce you to monoprinting techniques that can be used to revitalize your old clothing!
How can we bring clothing from our past into our present?
Inspired by Fabric Workshop and Museum's current exhibition, Rose B. Simpson: Dream House, learn how to draw inspiration from your own memories to create unique motifs that can be converted into screenprinting stencils. FWM educators will introduce you to monoprinting techniques that can be used to revitalize and transform your old clothing! Bring existing articles of clothing or purchase recycled fabric from the FABSCRAP store. Participants are limited to 2 articles of clothing each.
Shirts with undesirable stains can be revitalized with a monoprint design like the example prepared by Museum Tour Manager Katie Parry. Photo credit: Carlos Avendaño.
In-Person Attendees should bring:
Two items of old or stained clothing that you would like to transform
Wear clothes that can get inky
Ideas for motifs and bring inspiration images!
FWM will be providing:
10 x 14 in screenprinting screens for participants to use
Textile ink in various colors
Squeegees
Paper for stencils
Drawing materials
Wood blocks for block printing
Block printing inks and pads
Scissors
Rags
Drop cloths to cover tables
Slop buckets
Spatula
Your ticket price allows us to provide a stipend to our Workshop Instructors for their time in sharing their skills with the FABSCRAP Community. All in-person tickets are non-refundable. We encourage you to consider donating as another way to support our work as a sustainable resource – FABSCRAP is the only option available for the fashion industry to recycle and redistribute unused material, and the most accessible way for consumers to find saved-from-landfill fabric, trim, leather, and yarn.
This event will also be VIRTUAL! Register to watch this workshop via Zoom. You will receive Zoom link in your confirmation email.
Supply List to follow along at home:
Regular copy paper
Scissors
Drawing materials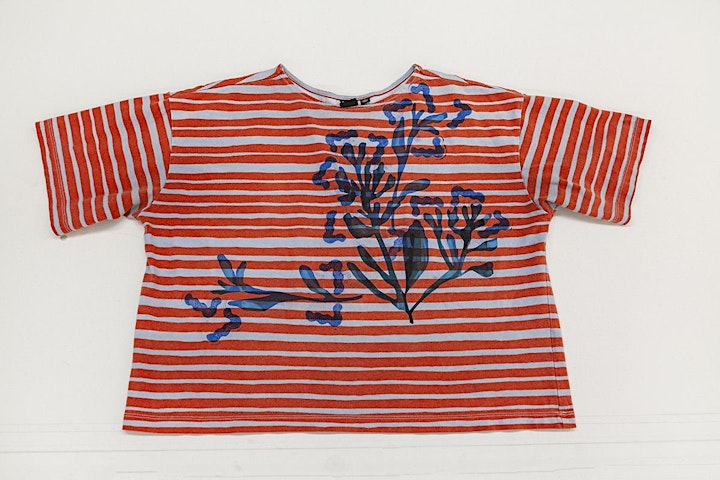 FABSCRAP is a 501(c)3 nonprofit working to end commercial textile "waste." Your donations and purchase of workshop materials from our online store support our work and allows us to continue hosting these workshops. Stay in touch with us at fabscrap.org and on Instagram at @fab_scrap.
The Fabric Workshop and Museum (FWM) is an internationally acclaimed contemporary art museum devoted both to the creation and presentation of innovative works of art. Its Artist-in-Residence Program provides artists at all stages of their careers with the opportunity to collaborate with FWM as they experiment with new materials and new media, taking their work in fresh and often unexpected directions. Founded in 1977 by Marion "Kippy" Boulton Stroud (1939-2015), FWM presents ambitious exhibitions which convey a story of contemporary art that unites process with finished works.

THESE DIRECTIONS ARE IMPORTANT:
The FABSCRAP warehouse is located in Unit 601 within BOK, which is accessible by foot, bike/scooter, car, subway and bus.
SUBWAY: Broad Street Line to Snyder Station
BUS: 45, 47, 47M, 79 Lines
BIKE: Approach BOK's Pedestrian Entrance on 821 Dudley Street, between 8th and 9th Street. Free outdoor bike parking is available next to the entrance on 9th Street. BOK is an Indego bike share location with a kiosk located on the corner of 8th and Mifflin Street.
DRIVING:
Traveling I-95S, take Exit 20 for Columbus Boulevard towards Washington Avenue. Keep right at the fork, following signs for Snyder Avenue/ Oregon Avenue. Turn right onto South Christopher Columbus Boulevard/ Columbus Boulevard. Turn right onto Tasker Street. Turn left onto East Moyamensing Avenue. Turn right onto McKean Street. Turn right onto South 9th Street.
Traveling I-95N, take Exit 17 to merge onto PA-611N/ South Broad Street towards Pattison Avenue. Turn right onto East Snyder Avenue. Turn left onto South 9th Street.
Traveling I-76E, take Exit 350 to merge onto Packer Avenue. Turn right onto South 10th Street. Turn right onto West Oregon Avenue. Turn left onto South 9th Street.
Traveling I-76W, take Exit 350 for 7th Street towards Packer Avenue. Keep left at the fork to continue towards South 7th Street. Turn left onto South 7th Street. Turn left onto West Shunk Street. Turn right onto South 9th Street.
How to locate FABSCRAP within BOK:
At the bottom of this page, and in your confirmation email, is a QR code, which works as a virtual key at the 9th Street entrance of Bok.
To the right of the door is a digital screen where you can scan this code.
1) Click the "Virtual Key" button on the home screen.
2) Hold the QR Code in front of the camera, located on the left side of the screen
When you hear a buzz/ding, the door unlocks so you can enter. The west elevator to our space on the 6th floor will be in the first hallway on your right when you enter through the 9th Street doors. The Dudley Street entrance of BOK is open to the public and does not require a key code. If you enter at Dudley, continue down the hallway and up the ramp until you reach the welcome desk. Take a left at the desk and another left right before the double doors. The west elevator is just around that corner- painted yellow and blue. We are on floor 6! Click 6 and eagerly await your arrival at our warehouse!
***(For ramp access, please use the ADA entrance on Mifflin St. The attendant at the Ambassador Desk will guide you to the West Elevator)
Need assistance? Contact us at (445)-300-8980
PARTICIPANT WAIVER
By signing below and in consideration for permitting you ("Participant") to participate at an event attendee with Fabscrap, Inc. on the date and time selected, Participant agrees as follows:
ASSUMPTION OF RISK AND WAIVER: Participant acknowledges that he or she has been advised that by participating in the Event, he or she may be using sharp items such as scissors or shears, and may be exposed to open flame through the use of a lighter for burn-testing fabric. Participant further acknowledges that the fabric at the FABSCRAP premises may inadvertently contain pins or staples that may cause lacerations or cuts. With that said, Participant hereby acknowledges and agrees that they understand the nature of the Event and that they knowingly and voluntarily accept and assume responsibility for any risks and dangers that could arise out of, or occur during, Participant's participation in the Event. The undersigned hereby RELEASE, WAIVE, DISCHARGE AND COVENANT NOT TO SUE Fabscrap, Inc. and its officers, directors, employees, interns (collectively, the "Releasees"), from and for any liability resulting from any personal injury, accident or illness (including death), and/or property loss, however caused, arising from, or in any way related to, Participant's participation in the Event, except for those caused by the willful misconduct, gross negligence or intentional torts of the above parties, as applicable. The undersigned also hereby agree to INDEMNIFY, DEFEND AND HOLD the Releasees HARMLESS from any and all claims, actions, suits, procedures, costs, expenses, damages and liabilities including, but not limited to, attorney's fees, arising from, or in any way related to, Participant's participation in the Event, except for those arising out of the willful misconduct, gross negligence or intentional torts of the above parties, as applicable.
NON-DISCLOSURE: Participant acknowledges that he or she may be exposed to or come across proprietary information belonging to either Fabscrap, Inc. or certain brand names that donate clothing for the Event. Participant agrees that he or she shall not take any pictures of the brand names or other proprietary information from the Event and shall not disclose in any way the proprietary information.
ACKNOWLEDGMENT OF UNDERSTANDING: Participant has read this assumption of risk, release and waiver of liability and indemnity agreement, and have had the opportunity to ask questions about the same. The undersigned acknowledges that by clicking on the acceptance of the terms and conditions, that he or she is entering into this agreement freely and voluntarily.
Media Release Form
FABSCRAP may take photos, videos or recordings at the event and use them for promotional purposes. FABSCRAP requests that you sign the below Medial Release prior to your attendance at the event (in-person or virtually).
I hereby grant FABSCRAP the irrevocable right and permission to use photographs, video recordings, zoom recordings and/or audio recordings made of me or my voice on FABSCRAP and other websites and in publications, promotional flyers, educational materials, derivative works, or for any other similar promotional purposes without compensation to me. I do not give permission for use of said materials for any other purpose.
I understand and agree that such photographs and/or video recordings of me may be placed on the Internet. I also understand and agree that I may be identified by name and/or title in printed, Internet or broadcast information that might accompany the photographs and/or video recordings of me. I waive the right to approve the final product. I agree that all such portraits, pictures, photographs, video and audio recordings, and any reproductions thereof, and all plates, negatives, recording tape and digital files are and shall remain the property of FABSCRAP.
I hereby release, acquit and forever discharge FABSCRAP, its current and former trustees, board members, agents, officers and employees from any and all claims, demands, rights, promises, damages and liabilities arising out of or in connection with the use or distribution of said materials, including but not limited to any claims for invasion of privacy, appropriation of likeness or defamation.
I hereby warrant that I am eighteen (18) years old or more and competent to contract in my own name. This release is binding on me and my heirs, assigns and personal representatives.
Details
Date:

December 8, 2022

Time:

6:30 pm - 8:30 pm

Website:
Venue
1901 South 9th Street, #Room 601A




Philadelphia

,

PA

19148

United States
Organizer