After serving in the Philadelphia Water Department for seven years in the government affairs and communications divisions, Melody Wright left City government at the start of the pandemic to fulfill a lifelong dream of owning her own business. She founded Say/Do in 2020 as a consulting firm that primarily offers services in strategic communications and strategic government relations to municipalities, engineering firms and architecture firms to support these businesses across the lifecycle of major infrastructure projects in water, wastewater, transportation and aviation.
"We help clients keep their project moving," Wright explains, touching on the many logistics such as ordinances, regulations and other red tape she helps clients navigate. "But more importantly, the reason why I do it is we like to connect these projects to the people who are going to live with them."
Wright's burgeoning business has grown quickly, taking on major clients such as the Philadelphia Industrial Development Corporation as well as major East Coast engineering and construction firms such as Black & Veatch and Brown and Caldwell. As a Black woman succeeding in a predominantly white, male field, Wright usually dresses for the part in professional, albeit often colorful and vibrant business attire as can be seen in this 2021 TEDxIntrepidAveED talk.
But on this beautiful Sunday in late June, Wright sits in a lush common yard she shares with a multitude of neighbors, dressed in a colorful sundress and a captain's hat, ready to navigate a whole new business venture.
"Today I am launching a new line of the Say/Do business called Say/Do Boutique," Wright explains. "This business will help clients curate intimate, personalized events or parties that focus on the concept of sustainability."
Wright's vision is to help clients figure out what materials they can use in party planning that they either already have or can borrow or repurpose. She sums up her party planning strategy as simply "giving it a little bit of brain power."
One example Wright points out is the dish holder she's using for the party. Her daughter, who works at a hardware store, salvaged a wooden pallet, brought it home and enlisted the help of their neighbor Doug Copeland. Within a few hours, Copeland refashioned the pallet into a beautiful server made even more attractive by Wright's artistic flourishes, complemented by beautiful plateware and cups that Wright bought from a thrift store.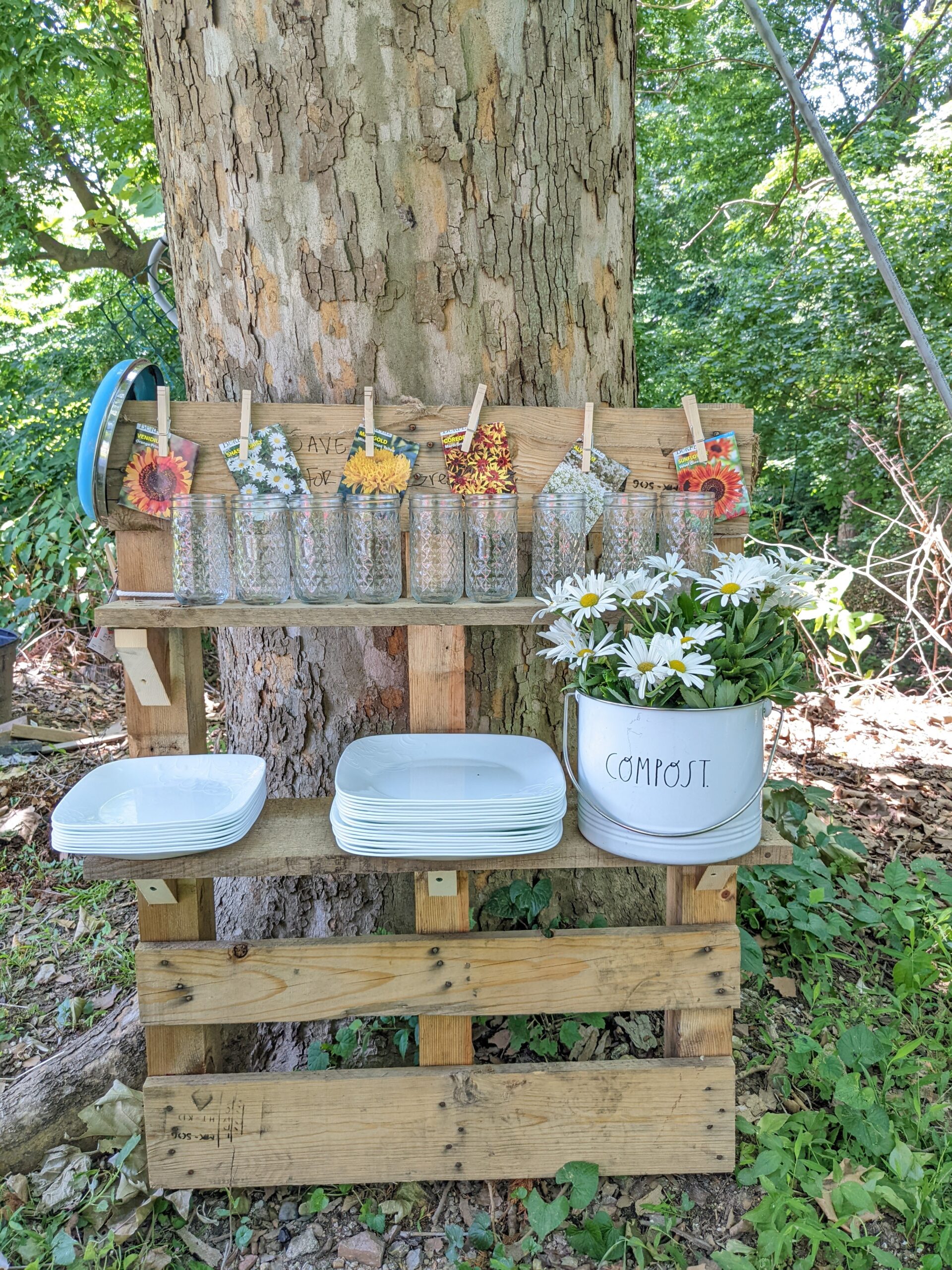 "Once you tell people what you're doing with this, it really becomes inspirational and people want to be a part of it," Wright says, reflecting on her daughter's and Copeland's help. "It makes them start thinking differently about how they might be able to do things more sustainably going forward."
A majority of the flowers were donated by a local, woman-owned flower CSA called Jewells in Bloom, and some others were picked straight from Wright's patio garden. The flowerpots were salvaged, and the runners on the table were clippings of white oak tree leaves set out by Wright's longtime friend Stacey Thomas.
Thomas, a co-manager for the education and training unit for Philadelphia's Department of Behavioral Health and Intellectual disAbility Services, spent much of her childhood at her great grandmother's farm house in Williamstown, New Jersey, "making mud pies and doing all this type of stuff with [her] family." And as the self-appointed "recycling queen" of her house, reuse and recycling is just part of who she is. Plus, as she asks, "Who doesn't want a Sunday afternoon hanging out with friends in the shade on a summer day? It's kind of a no brainer."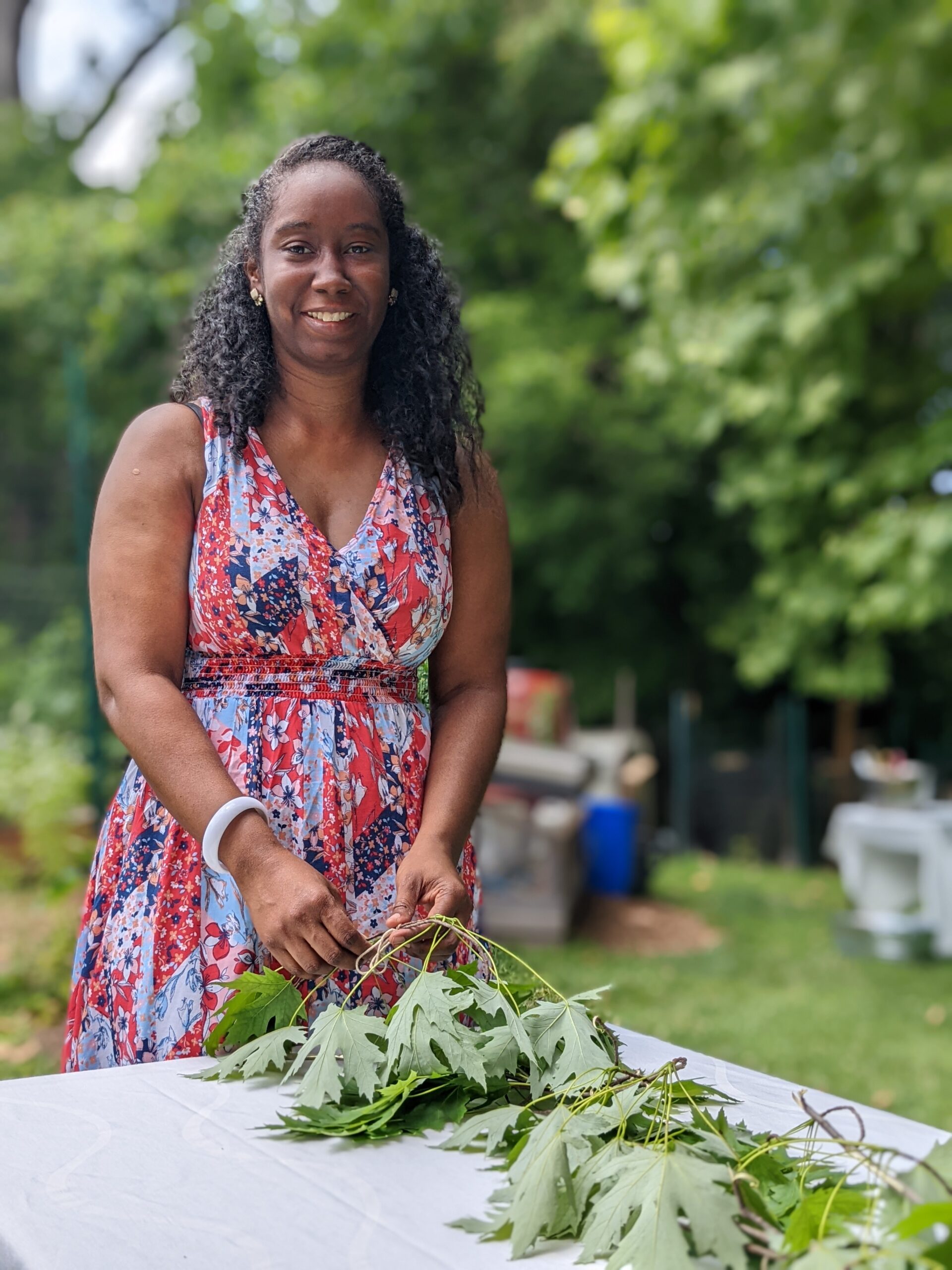 But what Wright seemed most proud of were the serving centerpieces that were to go on the table. A few weeks prior, she called her friends with the odd request to please keep as many toilet paper rolls as they could. They all thought she was going too far in her pursuit of sustainability until she unveiled the centerpieces given form by these pieces of cardboard so many discard into the recycling bin without thinking twice.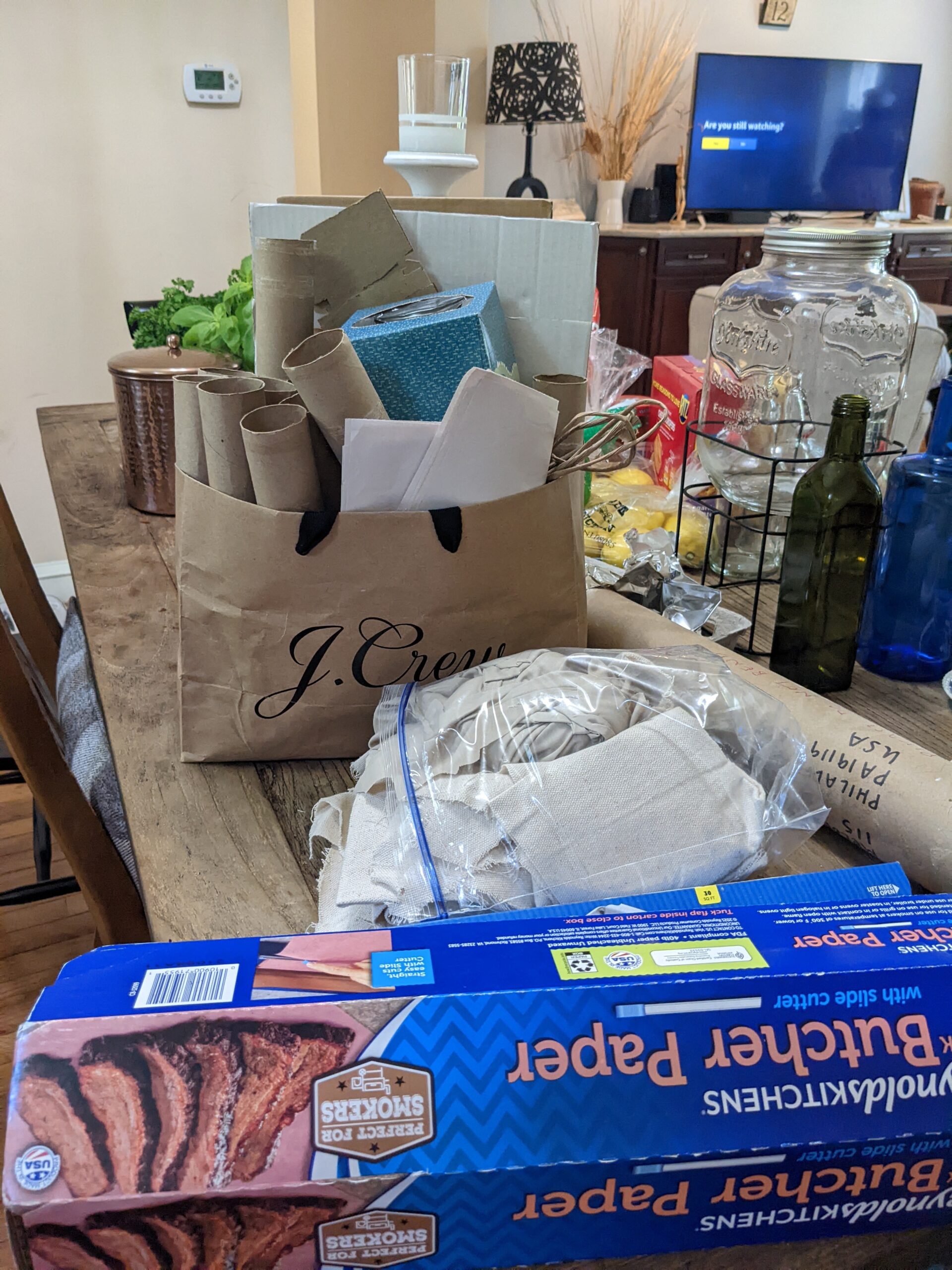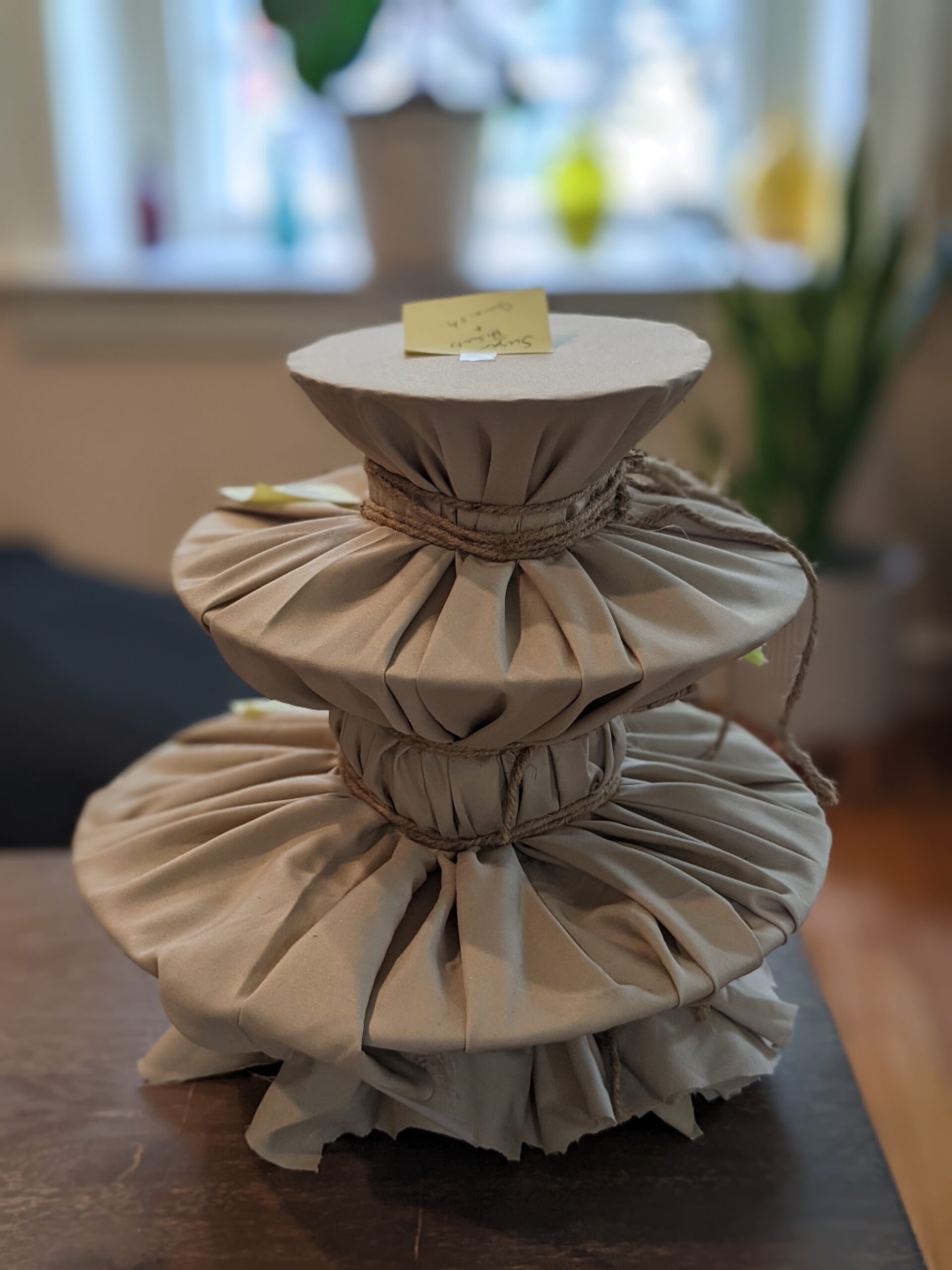 Wright hosted the event in what is basically her backyard, which is part of the sprawling Leamy estate in Mt. Airy. The Georgian Revival style mansion was built in 1902 and designed by the renowned architects Cope and Stewardson. Although it's hard to find who the owners of the mansion were, family history traces it back to 19th-century merchant John Leamy, who was the preeminent trader with the Spanish Empire and who built his family mansion at Kensington and Lehigh on land that is now Episcopal Hospital.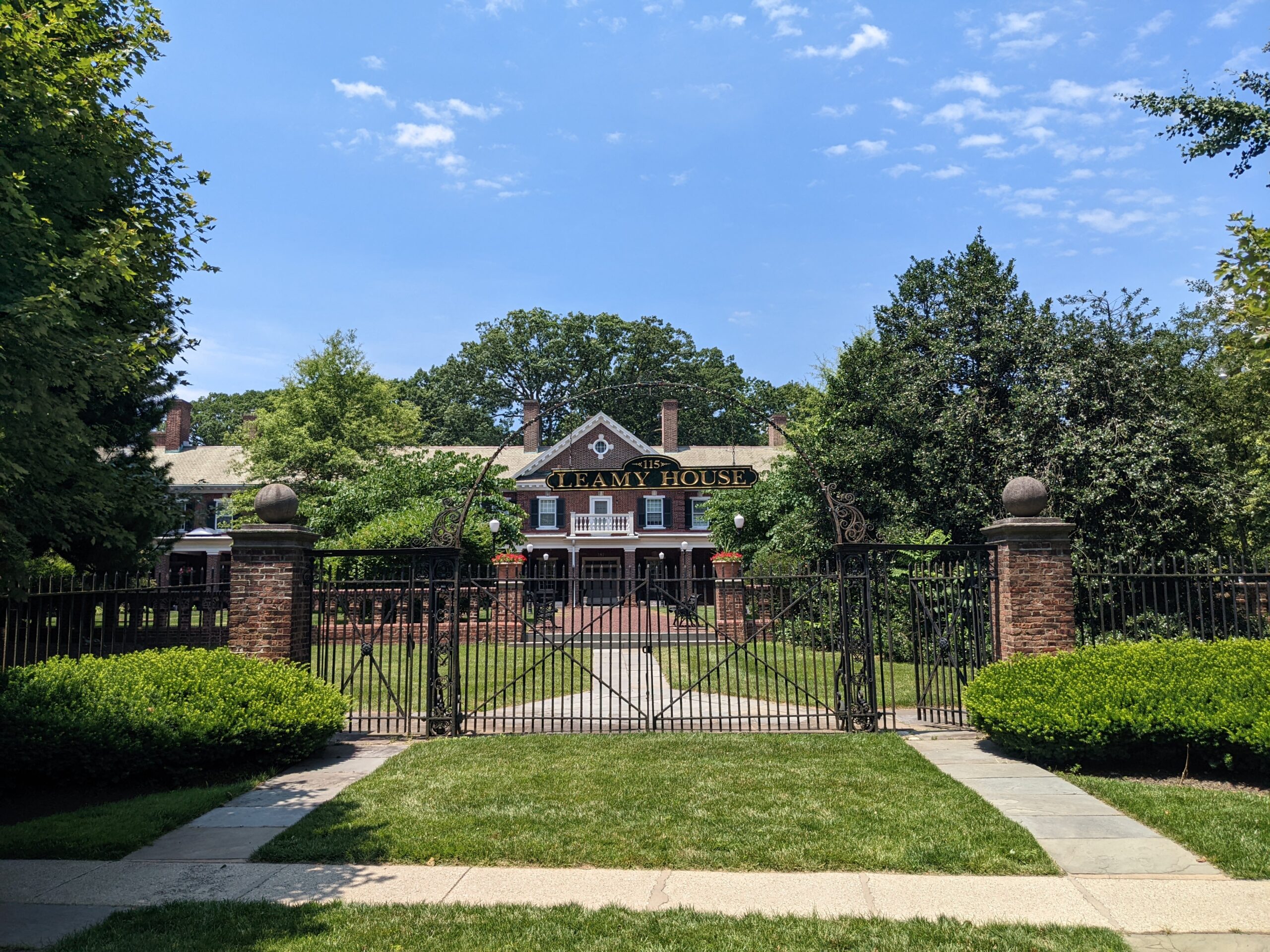 In 1982, the Leamy estate in Mt. Airy was converted into 13 condos; now these are single-family homes. Wright and her family own one of these condos, a 2,000-square-foot home enhanced with Wright's own decorative flourishes, such as the stunning James Baldwin portrait hanging in the staircase. She's also quick to point out the shared community garden behind her house with DIY elements such as the door that was fashioned from a discarded baby crib.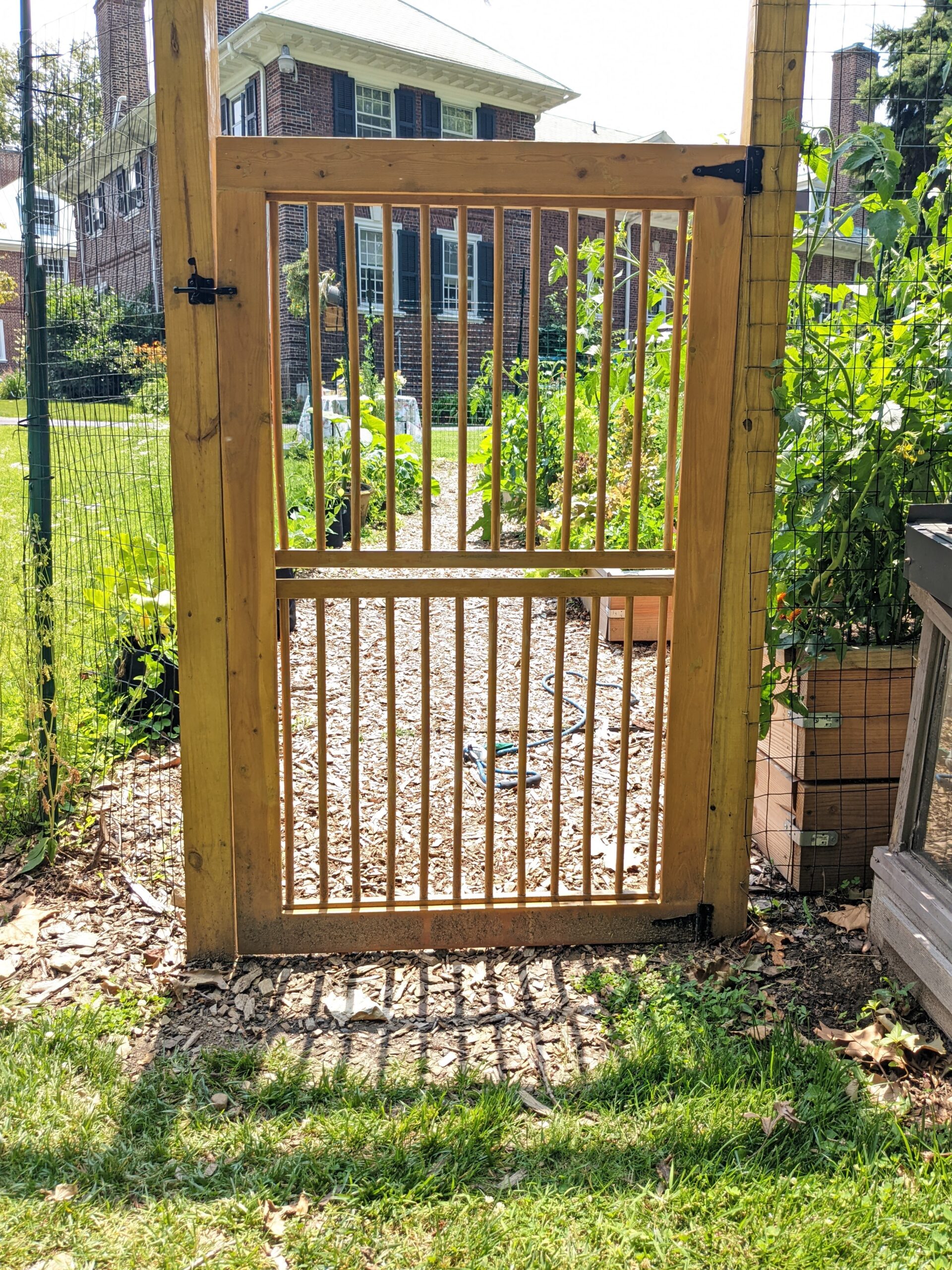 Melody billed her first event as a professional networking opportunity for Black women in fields ranging from organizational development to corporate or industrial real estate development. In one sense, she played it safe by inviting women she has known professionally for years and who have helped support her in her pursuits. But she admits that the risk was when her engineering colleagues showed up because, as she puts it, "as an engineer, you have to be very detailed on logistics because engineers are linear thinkers."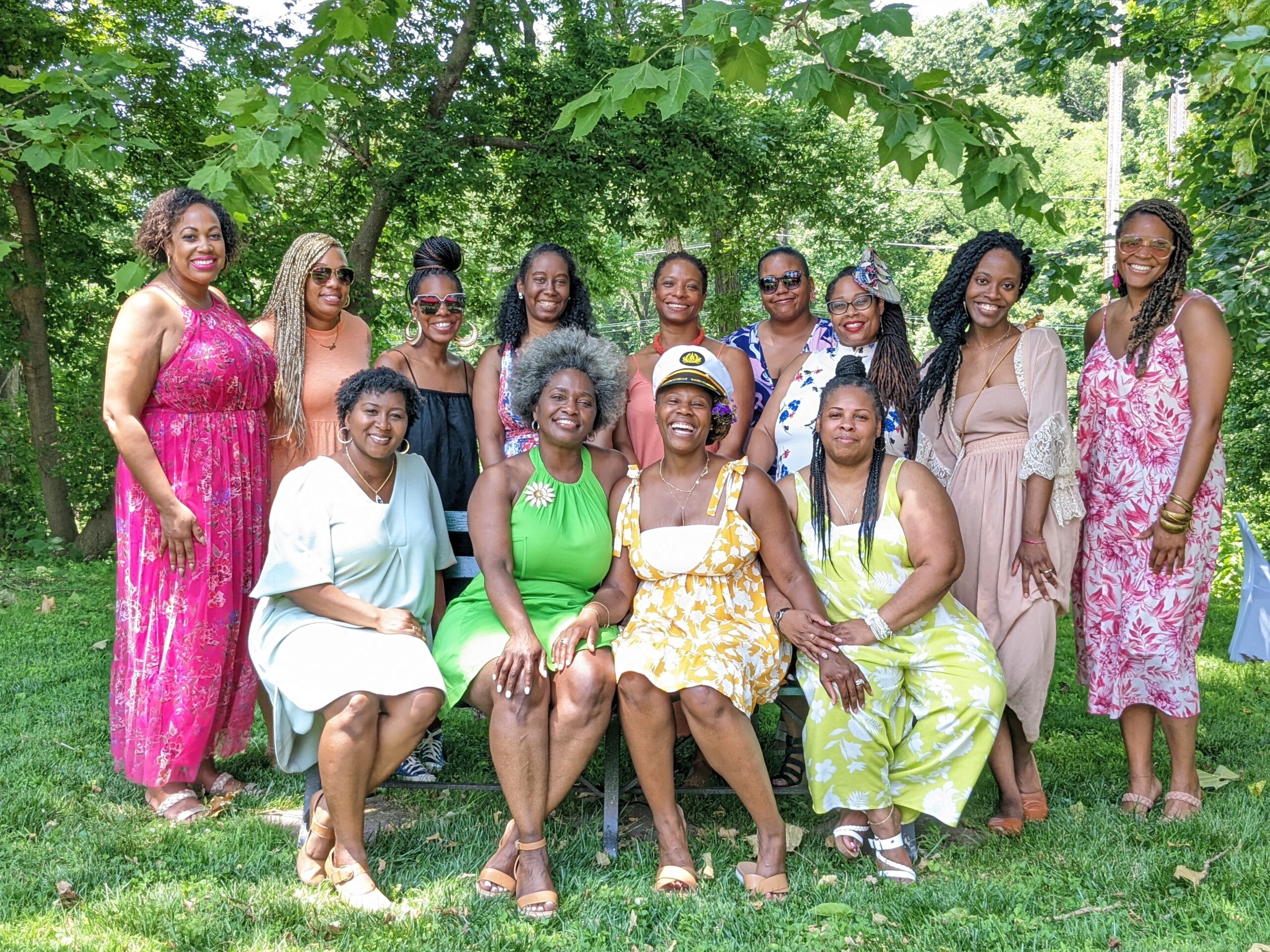 Which begs the question: Why would someone who works predominantly with engineers even want to open a party planning business? Wright had an answer ready.
"For me, the connection is that this idea of sustainability absolutely runs across the work that engineers already do," she explains. "So many infrastructure projects are already focused on sustainability, such as green stormwater infrastructure, so to me, this is really just an offshoot of that concept of the sustainable life at all touch points."
As Wright sees it, a huge part of being successful in winning work on these big infrastructure projects is networking and socializing. She reiterates how much relationships matter and how they are a major way of getting on the radar for big opportunities. So, Say/Do Boutique connects it all by creating intimate events where professionals of all kinds can enjoy, connect, and explore opportunities to work together — while they get to partake in a unique, sustainable party atmosphere with nice food and cocktails.
But what excites Wright the most is that this new line of her business can inspire her guests to take sustainable thinking back home with them. She can imagine the potential impact that can be made when a CEO of a big local engineering firm comes to a groundbreaking or opening reception that is heavily focused on sustainability and how that experience can reinforce the sustainability that she or he sets for the entire company's project portfolio.
And when it comes to the specific demographic of Black woman present at the Say/Do Boutique launch event, Wright takes even more pride when she says, "The truth is, this is our legacy, making do with what you had, with what you found, with the scraps, with the parts that weren't supposed to be the good parts, the things that were getting thrown away. This is in our DNA. We know how to do this. It's our lifestyle."