When Scott Kelly co-founded the Manayunk-based design firm, Re:Vision Architecture, twenty years ago, he was a pioneer in green building design. The world has changed since then.
Previously Kelly felt he had to be "stealthy" about including sustainable elements in his architectural designs. These days he revels in the freedom to go deeper, exploring with clients how buildings can actively promote healthy environments, happier communities, social equity and accessible beauty. Re:Vision partner Drew Lavine echoes Kelly's enthusiasm.
"In the last ten years, the baseline of understanding sustainability has increased considerably. Now we're able to discuss deep green, holistic and authentic sustainability approaches," Lavine says.
LEED certification used to be the building industry's gold standard, but what Re:Vision strives for now is the ambitious Living Building Challenge: net-positive energy management; a closed loop for water consumption; low materials toxicity from extraction to end-of-life use; and a connection to the building's context, culture and the character of the location. The end result aspires to be an enlivening space, both useful and beautiful.
Is it easier and cheaper to accomplish these goals by building from scratch or through adaptive reuse?
That, Kelly says, is a controversial "third rail" of architectural design. Re:Vision believes that every new building starts with an unsustainable huge carbon sink of virgin materials. They view adaptive reuse, especially given Philadelphia's rich inventory of existing structures, as an impactful way the building trades can address climate change.
Traditionally, the design and construction approach has been to find a process that works and endlessly repeat it. Re:Vision thinks true sustainability comes from constant innovation, not replication. Every project requires responsiveness to what is unique about the context.
Lavine says, "You have to push yourself and be willing to do something different."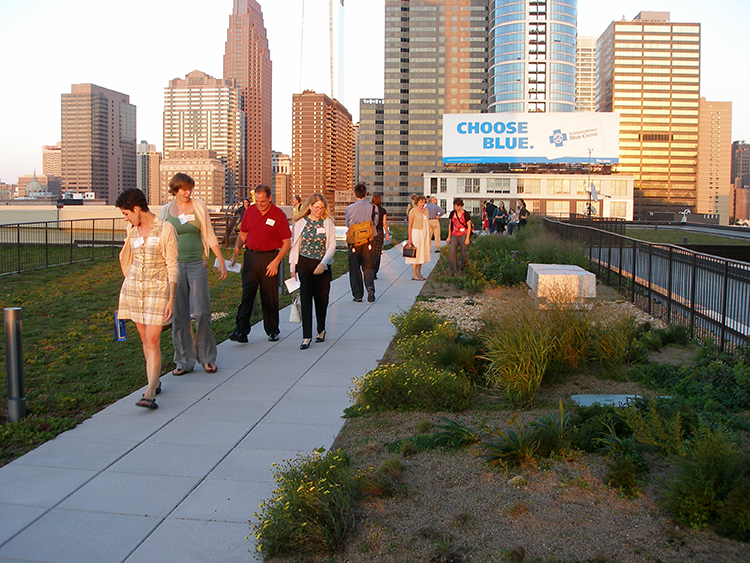 "We never just pull a solution out of drawer number three," Kelly adds, referring to the fact that they don't have a standard set of solutions that they apply to every project.
Integration across Re:Vision's three business lines—architectural design, sustainability consulting and certification—reveals its collaborative company culture, a style evident in the partners. They don't finish each other's sentences. They listen thoughtfully, then build on what the other has said. Lavine describes Re:Vision's team as "books on the shelf of an open library. Knowledge sharing is what we do."
To which Kelly adds, "It's what we do internally and externally, among ourselves, with our clients and with our community."
The partners share the conviction that architecture is an amazing profession that becomes even more amazing when you realize your responsibility. They've witnessed architects reach a point in their careers when they realize they've been part of the problem and it changes them.
"That's the common thread with us," Kelly says, "all of these people we work with want to be part of the solution."
Re:Vision In Action
PECO Green Roof, 2301 Market St. In view of the Schuylkill River, nearly an acre of rooftop is alive with perennial plants and grasses. Instead of producing polluted stormwater, an estimated 60 to 70% of the 1.5 million gallons of annual rooftop rainfall now supports lush vegetation.
Mariposa Food Co-op, 4824 Baltimore Ave. A conventional grocery store, a "big dumb box," requires a large tract of vacant land. Adaptive building reuse enabled Mariposa to provide access to healthy food in a neighborhood already full of structures. Re:Vision's conversion reinforces the co-op's mission of pairing community and environmental stewardship. You'll notice refrigeration behind energy-saving glass doors, extensive use of natural light, rain cisterns, a vertical garden and welcoming space for community events.
United by Blue Flagship Store, 205 Race St. A cornerstone of United by Blue's mission is keeping plastics out of the ocean. For its flagship store, the business wanted salvaged materials, and a low carbon footprint. Re:Vision's solutions made United by Blue's philosophy visible. It's a "biophilic" design style, meant to stimulate our biological response to nature. The natural light, the natural materials and surfaces all tap into our love of nature. See how walking around this store feels better than conventional retail where cheap, durable plastics are widely used.