The nickname "B" has followed Yasmeen Brown around most of her life.
She also happens to be a bug enthusiast, with a deep appreciation for bees especially.
"I'm obsessed with insects that do things," she says. "Insects that pollinate, insects that dig, ladybugs, bees … " She always dreamt of starting a brand that uses the image of a bumblebee.
Bee's Tiny Market, a corner store on Brill Street in the Lawncrest area of Northeast Philadelphia, is the manifestation of that dream. Opened at the end of January, the market offers local, minority-owned brands and healthy options for the surrounding food desert, Brown says.
Brown was previously an operations manager at Instacart, where she hired over 2,500 people as in-store shoppers and launched Instacart's service at several Whole Foods locations.
She says the mission of her market arose from a personal need. When she was a single, working mother living in Germantown, she struggled to get from the daycare to the grocery store and back home, she says.
"I remember thinking, 'Dang, I wish the corner store sold really good stuff,'" she says.
She was enamored with the concept of 1960s and '70s corner stores that sold groceries or contained butcher shops. Walkable, reliable stores for kitchen staples or that missing ingredient was not something that existed in her neighborhood.
She also sensed a real lack of education surrounding healthy food while working with Whole Foods. She realized many people didn't understand "real food" and assumed words like "fresh" and "organic" translated to "expensive" and "inaccessible," she says.
"I developed a passion for explaining that to people," she says, "letting them know that [healthy food] was accessible. People were like, 'Wow, you should do this. You should educate people.'"
As a mother of five children, Brown just never had the time or funds to start her own business. But the pandemic presented an opportunity. By saving money and receiving a stimulus check she was finally able to lease a retail property.
Between her management experience and her knack for community education, she says that entrepreneurship came easily.
The vision was a walkable neighborhood market that highlights local products, especially those that are minority-owned and independent. A place that carries staples, seasonal produce, meat, healthy snacks, local favorites such as Bassetts Ice Cream and some essential toiletries.
"Our main mission is fresh, our second is Philly favorites," she says.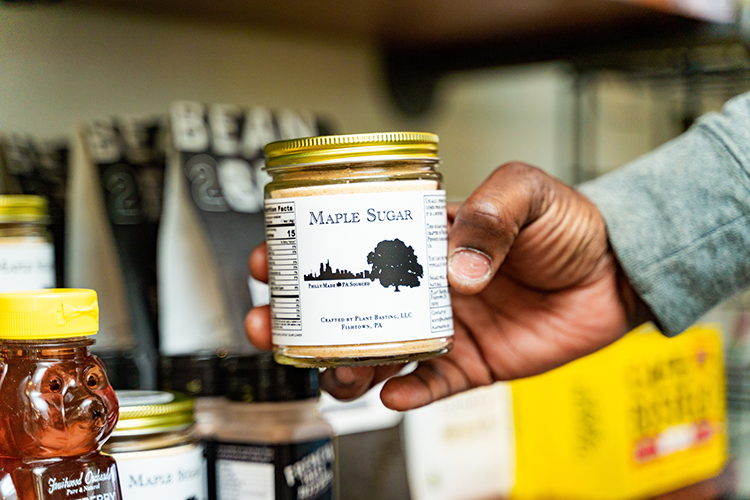 She sees Bee's as a "bridge store," an opportunity for education, she says, which is why she offers both organic and conventional products. She doesn't want to scare people away with the organic label, though she does eventually want to funnel out the conventional products.
She notes that she doesn't carry any meat with steroids, and it's all Halal or Kosher, which customers are used to seeing because of the area's prominent Muslim population.
The market also offers meal kits, an idea Brown adapted from Whole Foods. The kits are hand-selected and she offers recipes anyone can make from scratch. She says they're great for a date night or family dinner.
She also offers CSA-inspired boxes—tailored for people who want something specific, like a smoothie-making box—and offers organic or conventional, and even discounted vegetable boxes so customers can afford fresh produce for the week.
The market has been received warmly and has ample neighborhood and family support, says Brown.
"My mother helps me," she says. "She's my rock, as it pertains to this dream. My husband helps as much as he can."
She currently has a small team of employees, with two from the neighborhood. Employee Hallé Ahmaddiya says she was immediately interested in Brown's mission when she learned about the new kind of corner store.
We want it to be

in

the neighborhood. That's our niche."

— Yasmeen Brown,

Bee's Tiny Market owner
"Accessibility and community are extremely important to me," says Ahmaddiya. "Accessibility in general, but especially when it comes to food."
She has experience in farming but has never worked as a grocer. She says Brown's market stands apart from other stores offering similar products because it is Black-owned and stocked with Black-owned brands.
It also just "feels warm when you walk inside," she says.
Paul Minnar, a frequent customer, lives on the same corner as the market and was immediately drawn to the products. He appreciates Brown's commitment to healthier and more sustainable foods, and thinks it's an important change that needs to happen in his community. He personally enjoys the meal kits, and his favorite product is her cheesecake.
"It's great to see the push for change in the community," he says. "So many corner stores in Philly are pretty dangerous to even walk into, but Bee's is a peaceful environment with good products that I enjoy."
There have been some financial challenges, as Brown did not apply for any business loans to open the store, though she is currently in the process of doing so. She says the ups and downs have been rewarding.
"When I finally opened this place, it was like, 'Wow, I did it.' And when we make over $200 a day I am ecstatic," she says.
It's the type of store where one customer comes in and buys $100 worth of groceries, and another, like one neighborhood regular, buys just five mangoes. Sometimes customers recommend products or give suggestions, which Brown loves.
"It means they want to come back," she says, and that they rely on the business. "It means that what I dreamed, it's actually coming true," she says. "I love being an entrepreneur."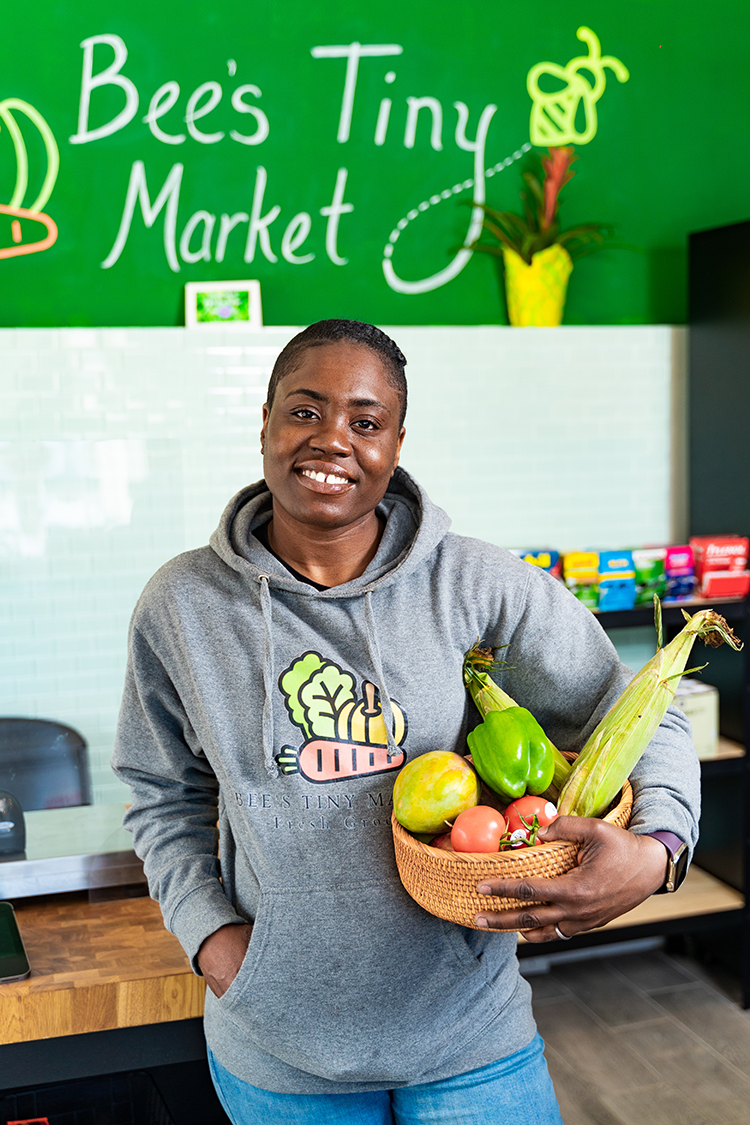 Brown says she envisions growth.
"My goal is to have one [tiny market] in every borough of Philly," she says, especially focusing on providing affordable access to healthy food in areas that are considered food deserts. And the stores will follow the same model: small, accessible corner stores.
"We want it to be in the neighborhood," she says. "That's our niche." She wants it to be a place that kids can come by themselves and feel safe, adding that they do not sell tobacco products.
"Every part of Philly should have that kind of safe place."