On a cold February morning, a new birding group huddled up at the John James Audubon Center in Audubon, Montgomery County. Though there's nothing remarkable about birders getting together at the museum, the former home of America's most famous birder, what was remarkable was what they were celebrating—the launch of a more accessible kind of group.
Founder of Adapted Birding Katie Samson described the attendees: "Two people in motorized wheelchairs, one on crutches, one in a manual chair, one person who is an arm amputee, two service dogs and a couple family members."
The group observed a variety of birds including a red-shouldered hawk, crows and a pileated woodpecker.
Samson, a Radnor native, got into birding while living in Arizona after graduate school. "I went out birding with my boyfriend at the time, and he showed me what they look like through a spotting scope," she recalls. "I was like, 'Holy [cow]!' There's something pretty awesome about that."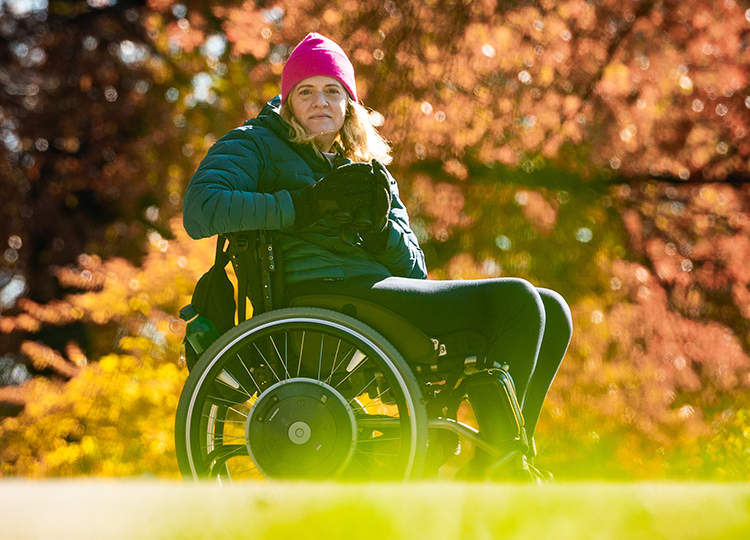 Samson, 42, had been an athlete and a hiker before her spinal cord injury at age 20.
"When I would go out after my injury into nature, there's only so far you can go on macadam," she says. "Birding felt like an amazing way I could appreciate nature."
By day Samson serves as the director of education for Art-Reach, an organization that works to expand accessibility in the arts, and is a fan of  Birdability, which launched in 2020. Birdability is a national program that works to ensure that "the birding community and the outdoors are welcoming, inclusive, safe and accessible for everybody." She wished there was something similar focused on the Philadelphia area.
"So I just reached out to folks: Philly Touch Tours, Pennsylvania Center for Adapted Sports [PCAS]. I talked to some people at Magee Rehabilitation Hospital," she recounts. "I'm not trying to universalize the experience, but I tried to include a lot of voices."
There are a lot of ways that birding outings can impose barriers to people with disabilities. For example, birders can focus excessively on observing birds visually, excluding those who can't use binoculars but who can observe birds by their calls and songs. Parks often have trails with uneven surfaces, and "accessible" might mean different things to someone in a manual wheelchair versus a motorized wheelchair. Samson has been actively reviewing the accessibility of birding sites for Birdability's crowdsourced map, which is a collaboration with the National Audubon Society.
The drive for accessible birding resonated with Isabel Bohn, cofounder and board president of PCAS, which provides adapted sports, such as rowing and skiing, to people with disabilities.
"One of the original participants in our rowing program was an avid birder," Bohn says. "She came down to row and would sit on the dock with her binoculars. And that's when I got started, probably 1984, but not really serious. I was excited if I saw a heron or an egret."
Bohn was thrilled to hear Samson's idea and immediately jumped on board.
"I don't know why we didn't think of it earlier,"  Bohn says.
Many of the programs at PCAS have been paused during the pandemic, but birding was something participants could do outside while socially distanced.
They picked the Great Backyard Bird Count, an annual citizen science event, as the kickoff for the new adapted birding program, and engaged a birding guide who had experience working with people with disabilities.
Trips to other accessible parks followed, including the John Heinz National Wildlife Refuge at Tinicum and Stoneleigh. "People come out of the woodwork when you build it with them in mind," Samson says.
Kevin Cook got involved with PCAS about three years ago when he took a woodworking class. From there he started kayaking, but that program was paused by the pandemic.
"So I was looking for something to do," he says. Cook, who was already a birder, attended the birding trip to John Heinz.
"Having a disability is stressful and messes with you. Being able to do something and just be able to turn your brain off and look at birds is relaxing," he says. "Birds are everywhere. It's a matter of opening your eyes, or opening your ears first."
Although finding accessible birding venues is essential, so is engaging all the senses.
"Some might not be able to use binoculars, so how do you pay attention to calls [and] chip notes?" Samson asks. The typical birding event can involve rapid-fire identification of new birds that pop into view, and Samson emphasized the need to slow down.
"What can you learn without grabbing the binoculars for every bird that flies by?" she asks. "But [instead] really spending time with that one warbler and learning about the warbler experience?"
---
Adapted Birding is on pause for the winter, but they plan to resume outings in the spring. To get involved in adapted sports, visit centeronline.com.