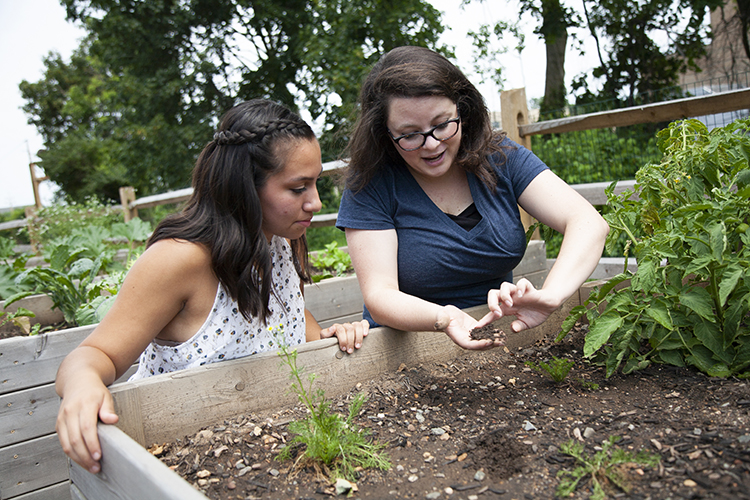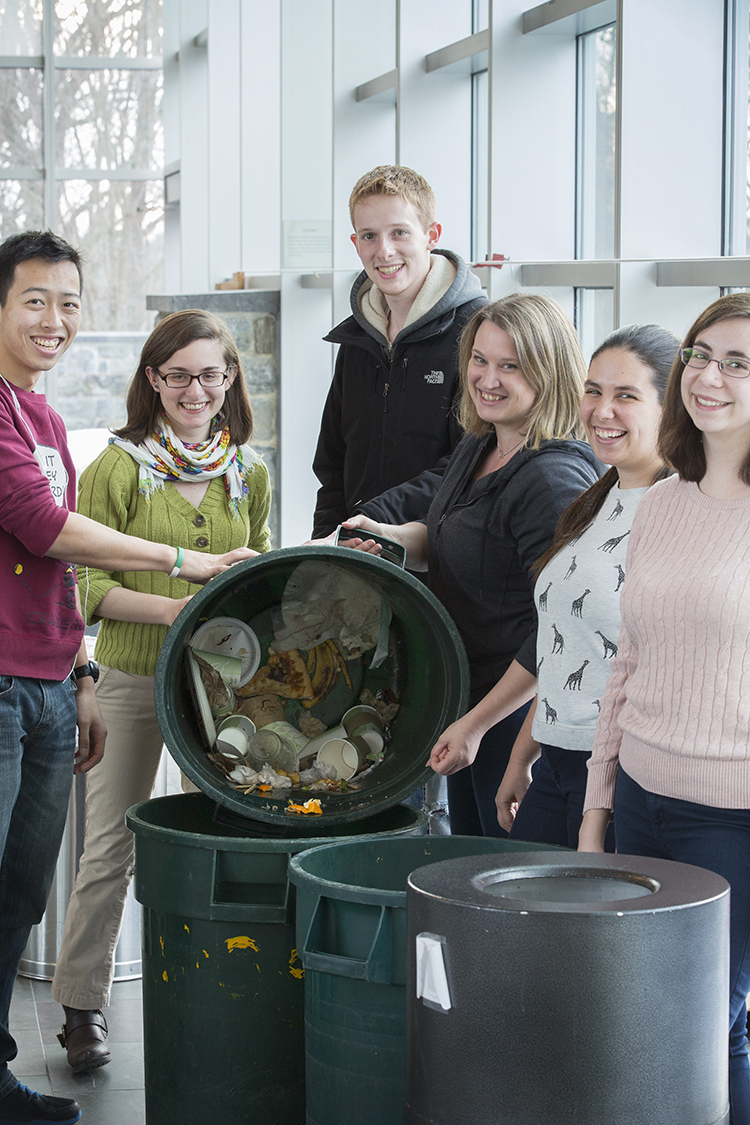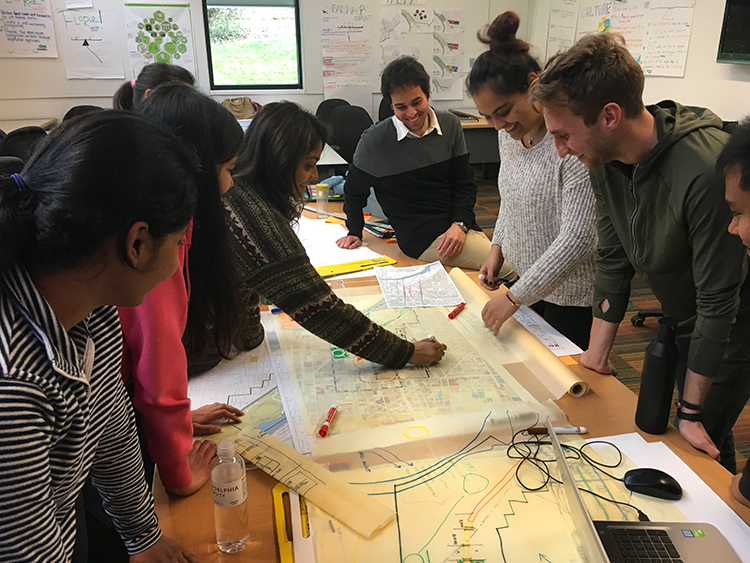 By Claire Marie Porter
Did you know that you can major in sustainability? Colleges and universities all across the nation offer programs on the subject.
"A lot of people assume that sustainability is [just] environmentalism. It's not," says Rob Fleming, an architect, professor and director in the sustainable design program at Thomas Jefferson University.
The term "sustainability" has become ubiquitous, and thus vague—it's often lumped with buzzwords like "eco-friendly" and "green" and thrown around to describe corporate initiatives, food sourcing and hybrid vehicles. While students may learn about some of these concepts in academic programs, there's much more to the subject of sustainability than what we're routinely exposed to in the marketplace. In fact, there are certain hallmarks aspiring sustainability students should keep in mind as they're deciding on their program—hallmarks that will allow them to suss out which degrees are legit.
The first thing to keep in mind: people, planet and profits.
According to the United Nations, the three fundamental pillars of sustainability are social, environmental and economic well-being.
"Sustainability is clearly defined as the triple bottom line," Fleming explains. "We add the fourth bottom line of place or experience to be more inclusive."
"Three pillars." "Triple bottom line." All the jargon points to the same thing—that sustainability is meeting the present needs without compromising the ability of future generations to meet their own. It's about taking care of the world and taking care of people, in perpetuity.
This model is used to establish every subcategory of sustainability. Sustainable design is design that meets the needs of the present within the building design field, without compromising the ability of future generations to meet theirs, and so on.
What it means to be sustainable is different than what it means to be eco-friendly or green, because sustainability is about balancing the future with the present.
Local sustainability offerings
The first higher education sustainability program in the United States was implemented at Arizona State University in 2006.
By 2015, 475 colleges and universities offered degree programs in sustainability.
The first program in Philadelphia was founded 11 years ago at Philadelphia University (now part of Thomas Jefferson).
Soon after, followed:
University of Pennsylvania's Master of Landscape Architecture
Villanova University's Master of Science in Sustainable Engineering
Drexel University's Bachelor of Arts in Environmental Studies and Sustainability
Temple University's Master of Science in Environmental Health
West Chester University's Bachelor of Science in Urban and Environmental Planning and its Master of Urban and Regional Planning
University of the Sciences Environmental Science Major
These programs all function within the paradigm of sustainability, but each may emphasize a different aspect of the triple bottom line—people, planet or profit.
Is the program you're looking at authentic?
Philadelphia's branch of the Association for the Advancement of Sustainability in Higher Education (AASHE) was started in 2005 to provide resources for campus sustainability efforts.
It is a national and virtual organization, says Aurora Winslade, director of sustainability at Swarthmore College, and a critically important one.
It oversees STARS, the Sustainability Tracking, Assessment & Rating System—a framework that can be used by potential students to vet how seriously a school takes sustainability.
STARS is a point-based tool that provides information for potential students on things like how many sustainability courses are offered at a higher education institution or the amount of faculty engaged in sustainability research.
"It's been co-created by professionals over the last decade," says Winslade. It's data driven, and collaborative (university officials report numbers on behalf of their institutions), but in no way absolute.
"Any system is, by definition, not going to be perfect, but it's the best benchmark we have," says Winslade.
Fleming echoes this.
"STARS allows a school to organize its efforts and tell a true story," he says.
Another important consideration, Winslade says, is what solutions academic programs offer. She suggests looking through Project Drawdown's list of viable global climate solutions.
"Project Drawdown is a multinational effort convening hundreds of researchers from all over the world to use peer-reviewed research to quantify and promote solutions to reverse global warming," says Winslade.
It's also important to examine how a program is choosing to use sustainability throughout the curriculum. Have they developed a technological and operational plan? Have they funded it?
"How is it integrated into policies, student life, job descriptions?" prompts Winslade.
Likewise, pay attention to the professors you'd be learning from. The personnel is what makes a program serious, says Liesel Schwarz, sustainability manager at Villanova University.
She also notes that a good sustainability program is tailored around the United Nations' Sustainable Development Goals (SDG).
Fleming agrees. When programs incorporate these goals, they're creating stronger sustainability programs, he says.
The SDGs are a list of 17 objectives that cover earth and human wellness—from zero hunger to gender equality to clean air.
"That framework is becoming accepted in large corporations and government," says Fleming, "and trickling down into education."
Asking how a particular program's curriculum relates to the SDGs is a good way to vet its authenticity, he says.
And one particularly important SDG to ask about, Fleming says, is poverty.
An effective sustainability program needs to address the global pockets of chronic hunger, unclean water and lack of healthcare. If poverty isn't solved, we aren't going to be able to live in a sustainable society.
"We recognise that eradicating poverty in all its forms and dimensions, including extreme poverty, is the greatest global challenge and an indispensable requirement for sustainable development," states the preamble of the 2030 Agenda for Sustainable Development, adopted by United Nations member states.
The poor rely heavily on natural resources and are most vulnerable to changes in the environment. Ending extreme poverty will increase environmental sustainability.
"We have to address the social issues—
climate change is just a piece," says Schwarz.
It's a big part of the solution, she says, but all these things go hand-in-hand if we want a long-term answer.
And young students pursuing sustainability are emphatic about addressing the problems faced by low-income communities, says Winslade.
"Because, yes, it's about ecology, and it's about the environment," says Winslade. "But it's also about people, and it's about justice."
Focusing on the future means focusing on climate change
As climate change and global warming move more into the public eye, academics in the sustainability field have responded.
A big push happened right after the Intergovernmental Panel on Climate Change (IPCC) report was released last year. It stated, in no uncertain terms, that we have 12 years left to limit the calamitous effects of climate change. The risks of drought, poverty, extreme heat and floods are increasing and require urgent action to keep the globe from warming to an increase of 1.5 C (2.7 F).
Even half a degree more would have catastrophic effects, says the report.
"It was the first time we started seeing media outlets covering climate change in a big way," says Winslade. "I started being more courageous about saying we are in a climate crisis—this is an emergency."
Many Philadelphia programs are recognizing this urgency, and becoming more data-driven, and more aggressive.
"Traditionally, higher education has been more a neutral thing," says Winslade. "I think that is outdated, considering the severity of the crises that we are facing. We need to be ambitious and strategic."
When it comes to higher education, it's possible to graduate with a degree and know nothing about sustainability or climate change.
"Our curriculum is very slow to change," says Winslade, "many students are not prepared for climate change."
Initiatives that stand out
Within a year, Villanova's sustainability program will be 100 percent based around the SDG framework, says Schwarz.
Some of the goals will be more represented than others, due to the location and the priorities of the individual institution.
The university, located about 12 miles outside of Philadelphia in Radnor Township, also recently created an experimental garden for soil chemistry.
"The benefits of this research are endless as concerns escalate over population growth, which leads to more people needing to be fed with food that is becoming less nutrient-rich due to climate change, among other factors," a press release about the program states.
The team is working to figure out the perfect balance in soil composition, one that will withstand climate change and yield the richest harvest.
At Swarthmore College, carbon pricing is the current effort.
"There's a social cost of carbon that's not paid in the marketplace," says Winslade. This is the concept of externalities, she explains. That there are real costs and real dollars being expended—some are pretty measurable and others are harder to measure. Carbon pricing is how you account for those costs.
The program has also created a shadow, or proxy price on carbon, which is a life-cycle cost analysis.
"The point is we had better hope a price on carbon is coming," she says. "To keep fossil fuels in the ground."
Winslade says she's also very proud of Swarthmore's President's Sustainability Research Fellowship (PSRF). The fellows are making strides in the field and in their contributions to environmental justice, waste-management strategies and sustainability on campus.
Reenvisioning the world
According to Fleming, a lot of people look at sustainability programs as padding—a nice complement to whatever else they're studying.
"You can't just tack on a sustainability lecture and call it authentic," says Fleming. "Sustainability is a paradigm—it's a completely different way of thinking."
There are ways society can be sustainable on a small scale—recycling, composting and solar panels to name a few; then there are companies with more environmentally friendly methods; and then there are government regulations and initiatives. The higher-level actors tend to be the ones that have the most impact and the least motivation.
"Fundamentally what we need is a radical change in society," Winslade adds.
It's essential to recognize sustainability as both a paradigm and worthy academic pursuit, says Winslade.
"I think people can easily misunderstand sustainability to be only about ecology, and miss that it's about people and economics, as well," she says.
Fleming concurs, noting that the programs that incorporate all these facets "are really digging deep and getting to authentic change."
The only way out is through
There was a point in 2007 when Winslade stopped asking students, "What does sustainability mean to you?" and started asking more pointed questions. It became a given that everyone was on board. Everyone recognized the state of emergency.
"Science is quite clear that we do not have time," says Winslade. "Climate change isn't waiting. Marginalized communities are suffering. How do we grapple with the drastic changes that are underway?"
Mostly by working together in the sustainability field. When students and faculty learn something new or have a breakthrough, they share it.
The transparency of sustainability in academia is unique. All the programs encompassed by it have the same goal: making our world a livable place for future generations.
Despair, hopelessness, guilt, shame and frustration are common emotions for a society responding to climate change and a depletion of natural resources, says Winslade. There is hope, but it's "a tenuous and
fragile thing," she says.
Sustainability is not a trend, it's an ideology. It's not just about reducing plastic in the oceans, it's about finding ways to create an equilibrium that will last.
It's figuring out how to protect our blue-green floating orb in the vast unknown of black space.
As Winslade puts it: "How do we equip students with the tools to be resilient, adaptable, creative problem solvers in this rapidly changing world?"