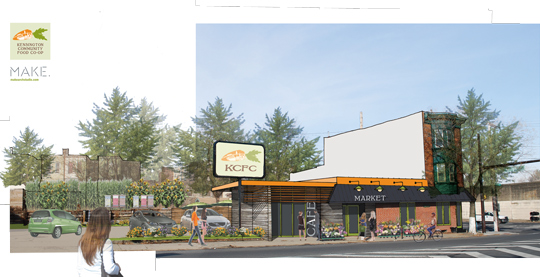 This week, the directors of the Kensington Community Food Co-op announced the future location of its much anticipated store front, located at 2672 Coral Street, at the intersection of Frankford and Lehigh Avenues in East Kensington.
The news caps the end of an exhaustive three-year search that began in 2012 when the KCFC site-search committee was founded, consisting of local professionals in construction, real estate, architecture and design. In 2013 the committee targeted the Coral Street site, which served as a local bar for over 100 years, originally to local rail workers and then finally as the neighborhood watering hole O'Reilly's Pub.
The May 4 announcement party was held at the Philadelphia Brewing Company headquarters— just blocks from where the new KCFC store will be. Many of the co-op's nearly 400 members, as well as potential members, enthusiastically welcomed the news.
Jeff Carpineta, a founding board member of KCFC who put the deal together, says that acquiring the site was, "A nine-month, against-all-odds roller coaster. The building was being totally scrapped and vandalized after we had our first look. But we were not in position to buy the building, and needed an angel to close a deal, and then two came—Mike and Sue Wade who had roots in the neighborhood and knew about the co-op. When they heard the need, they purchased the site to give the co-op a generous lease with an option to purchase. We cried when the deal closed."
The outdoor area will feature approximately 500 square feet of garden space and a cafe that will sell beer to take home or for enjoying at the space—making it the first co-op in the state to serve beer at an on-site cafe. Although the store is positioned on a well-serviced public transportation route on pedestrian- and bicyclist-friendly Frankford Avenue, a 18-car parking lot will still be available exclusively to patrons.
"We are so excited to have found a site that aligns so well with the needs of both members and the community at large," says KCFC founder and President Lena Helen. "This is a real morale-booster for us, and we're ready to push forward, recruiting more members and securing the financing we need to open the store."
To further celebrate this milestone for a community where food access has been such a dire issue, KCFC will be hosting a member-guest tour on Saturday, May 10 at the store location of 2672 Coral Street. The tour is open to the public and is encouraged for anyone considering membership. For more information on membership, the new store or how to get involved please visit www.kcfc.coop/membership or email info@kcfc.coop.
Story by Nicolas Esposito, rendering courtesy of Kensington Food Co-op