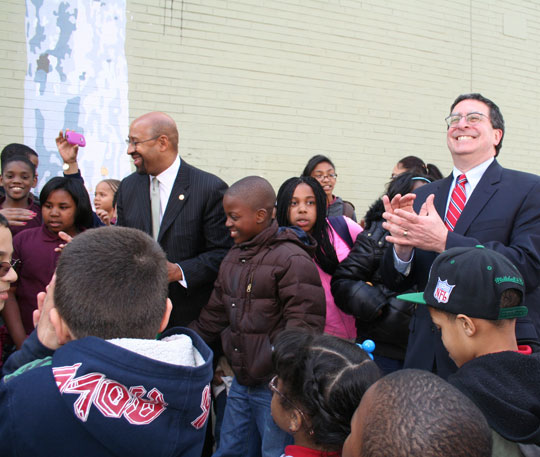 Mayor Michael Nutter (left) and Howard Neukrug (right) share a light moment with some local youths
Howard Neukrug has been called a visionary, a great thinker and a national leader in sustainability. But back in 1978, he was just a mild-mannered engineer, fresh out of the University of Pennsylvania and looking for a job. "There was only one place willing to bring me in at a management level," Neukrug says. "And that was the Philadelphia Water Department." Neukrug became project manager for a $3 million advanced drinking water treatment process. "I worked on that for four or five years, and became somewhat of a national expert on drinking water quality, drinking water treatment," he says. "And my fascination with the PWD really stuck."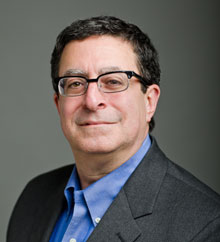 Howard Neukrug: Aqua ManPWD has been equally enamored with Neukrug. When naming Neukrug Water Commissioner in 2011, Mayor Michael Nutter said, "He has been a key leader at the department for decades, and is recognized as a national authority in the water industry. He is one of America's great thinkers on environmental policy and regulation."
The defining initiative of Neukrug's tenure as water commissioner is Green City, Clean Waters, a groundbreaking $2 billion, 25-year capital plan to protect and enhance our watersheds by managing stormwater with an unprecedented reliance on innovative green infrastructure — in other words, plants instead of pipes. Neukrug credits the Mayor's office with making the initiative possible. "This program couldn't have gotten off the ground without the support of a mayor like Mayor Nutter, and the Office of Sustainability… Green City Clean Waters is a water program, but it's really only successful when you coordinate it city-wide …And to have that kind of support at the highest level of city government is crucial."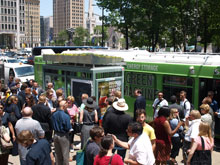 This miniature green roof on a bus shelter at 15th and Market Streets inspires Philadelphians to take on their own stormwater projects"Howard spearheaded a multi-year advocacy effort to begin changing how we approach not only stormwater management, but infrastructure investment," says Katherine Gajewski, director of the Mayor's Office of Sustainability. "It's not always easy to be at the forefront of a radical new approach to an old problem — especially when it involves the private sector and the trisect of local, state and federal government — but Howard stuck with it and was intensely committed to seeing it through."
The plan has won widespread praise and national attention. It has also captured the city's imagination, quite an achievement considering not long ago the issue existed solely in the realm of white papers and policy wonks.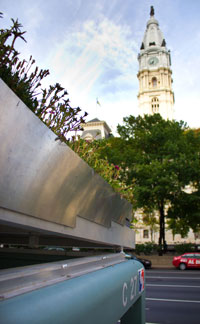 Detail of bus shelter green roof at 15th & Market"It's amazing the amount of change that's happened in a decade, in terms of the public understanding of the issues of water, stormwater and how people are reacting to it, and just the level of knowledge," says Neukrug. "In 1999 I began the Office of Watersheds… I'd say, 'Hi, I'm Howard Neukrug, director of the Office of Watersheds,' and their first question to me was 'What's a watershed?' …Today, everywhere I go, people are talking to me about impervious cover and how they manage it. Where do they get a rain barrel? …That's an amazing change."
Change has been one of the few constants at PWD during Neukrug's tenure, which began just after the Clean Water Act mandated construction of big wastewater treatment plants, transforming the way water departments viewed rivers and streams. Climate change and increases in heavy rain events have pushed stormwater management toward the top of the agenda, but Neukrug notes that without the Clean Water Act, rivers and streams would have remained too dirty to detect the pollution storm runoff.
While implementing its forward-thinking agenda, PWD must also maintain an aging traditional infrastructure that includes 7,000 miles of pipe. "We've been targeting .8 percent of our water distribution pipes to be replaced each year… a 120-year cycle," Neukrug says. That might not sound like much, but .8 percent equals more than 50 miles of pipe that must be changed each year.
PWD's innovative plans go beyond stormwater management. "We're looking to recover every resource you can," says Neukrug, "…The water itself, the heat within the water, the nutrients and organics. How do you take everything you can out of that water and reuse it the best you can? …That's the future of the water industry." The tools to do it are evolving as well, from the sewage treatment plants of the 1920s, through the Water Pollution Control Plants (WPCPs) built under the Clean Water Act. Next will be Resource Recovery and Energy Efficiency (R2E2) facilities.
Neukrug's enthusiasm about stormwater permeates the city, but its impact is felt event further. "That passion and vision has really energized a lot of people," says Gajewski. "I have the opportunity to talk with folks working in cities across the U.S. and the world, and it's exciting to have them looking to us as an innovator and aspiring to follow our lead. Just as exciting to me is that there is a new generation of planners and engineers interested in public service because of Green City, Clean Waters."
Learn more about the innovation at the Philadelphia Water Department at phillywatersheds.org and at phila.gov/water
Story by Jon McGoran.