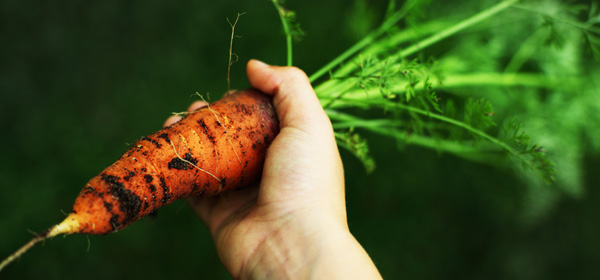 sotry by Char Vandermeer When I was a little squirt, my folks always made sure I had a patch of garden all to myself. My specialties were radishes and carrots, but I also have happy memories harvesting potatoes with my dad. What fun it was rooting underneath those big, leafy green plants, looking for hidden treasure—tiny red-skinned new potatoes. Like an Easter egg hunt, but dirtier and less chocolaty. And so much more rewarding than weeding the monster garden my folks planted.
Lest you get the wrong impression of my time in the garden, let me assure you there's a pattern here: Root vegetables are fun! And containers more or less eliminate weeding altogether. While potatoes are awesome, March is the best time to plant them in Philly, so let's focus on a few other high-reward crops.
Radishes are pretty much perfect for kids. The seeds are just big enough for little fingers to grasp, and within a month those same fingers will be yanking up a bright red, peppery vegetable that's perfect for quick pickling and serving alongside some tasty kimchee, which our kid happens to love. Radishes thrive in cooler weather, so aim to plant a couple dozen seeds each week throughout April and May. But gardeners beware—cabbage loopers (pesky garden-eating worms) love radish greens, so send junior on a hunting trip and offer a shiny penny or a high five for every looper killed. Think of it as a cheap, organic pesticide.
And if you've memorized Ruth Krauss and Crockett Jones' victory garden classic The Carrot Seed, as we have, carrots are a must. The thrill of pulling up a pointy orange vegetable is something no dirt-loving kid can resist. Toss in some Parmex or Tonda di Parigi carrot seeds and blow their little minds with a few golf-ball-shaped carrots planted alongside the familiar spears.
Carrots are great way to teach your kid patience and perseverance. It takes two to three weeks for the seeds to germinate, hence Krauss's warning: "Everyone kept saying, 'It won't come up.'" (Here's a tip: Soak the seeds overnight to speed germination.) Have your little one thin the young carrot plants, leaving three inches between plants (measuring!), and a mere 60 days or so later, with regular water and weeding check-ins, you'll have carrots ready for the picking.
If patience isn't your virtue, and space is at a premium, you can commingle your carrot and radish seeds. Both are planted at a depth of a quarter to half an inch. The radishes will keep your mini-me occupied, and will be ready for harvest long before your carrots. As a bonus, by the time the radishes have been plucked, your wee one won't have to commit as much carrotcide through thinning.
Char Vandermeer tends a container garden on her South Philly roof deck; she chronicles the triumphs and travails at plantsondeck.com