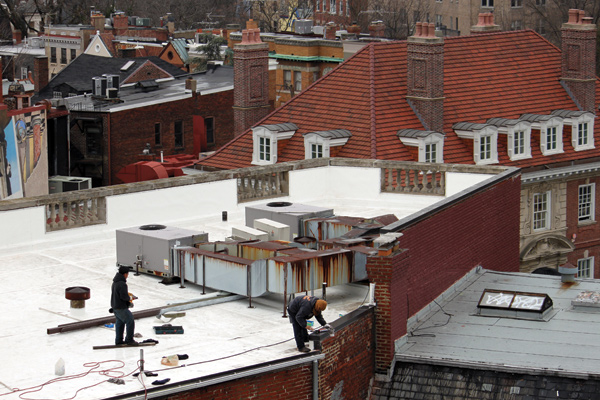 by Lee StabertRetroFit Philly gives Philadelphians a chance to win free energy upgrades
It seems impossible that, in a few short months, Philadelphians will be sweating through their shirts, but it's true. Energy costs are sure to be a concern this summer, and small changes make a huge difference.
This is the thrust behind RetroFit Philly's Coolest Block Contest, an initiative sponsored by the City of Philadelphia, the Energy Coordinating Agency (ECA) of Philadelphia and the Dow Building & Construction business group. The winners will receive energy audits and white roofs for their entire block, free of charge.
Cool roofs reflect the sun's heat rather than transferring it to the home below. They are about 50 to 80 degrees cooler than typical asphalt roofs. Though they come in many colors, white is ideal because it most efficiently reflects the sun's rays. Many Philadelphia neighborhoods are well-suited for white roof installation—rowhomes with no- or low-slope roofs receive the most benefit from this technology. Residents of the winning block will also receive insulation and air sealing products that can reduce heating and cooling costs by as much as 30 percent.
To participate, download an entry form from retrofitphilly.com, get signatures from your neighbors and return the form to the Energy Coordinating Agency (1924 Arch St.). Entry forms must be received by April 5. General information on cool roofs and entry rules are also available on their website.
Contest aside, white roofs, proper insulation and air sealing are economically prudent ways to drastically reduce a home's carbon footprint, and the subsequent utility bill—nobody likes an overworked air conditioner.