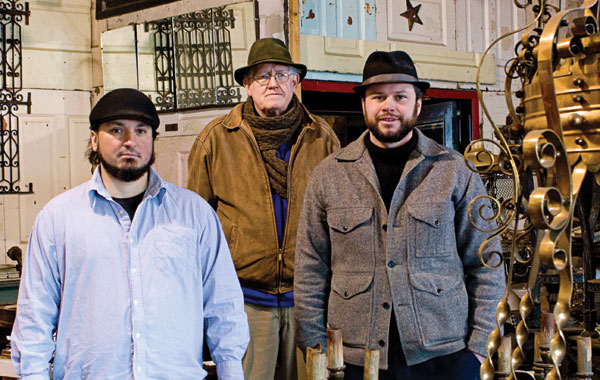 A Local architectural salvage company finds value in the discarded.
Walking into Provenance Old Soul Architectural
Salvage's Fairmount Avenue space is a bit like entering the world of a children's book—the sort with creaky doors and hidden passages to menacing places. The best kind. There is a strange sort of magic to old things, to objects that have been on a journey. Items with history are Provenance's specialty. Their warehouse overflows with row upon row of doors and windows, old church pews, light fixtures, slab marble, chunks of old-growth wood, knobs of every shape and size, molding, mantles, bricks and thousands of other objects.
Provenance began with one man: Bob Beaty. Beaty was born and raised in West Philadelphia, then spent several years in California, running a landfill and working in the salvage and composting businesses. He has always been fascinated by the things our society throws away. "People ask me, 'How did you ever get into this business?'" says Beaty. "And I say, a little tongue-in-cheek, 'It was a calling.'"
22 years ago, Beaty returned to the area and became involved in an assortment of projects, including the restoration of coal-damaged land in Schulykill County. Their work involved laying down composted lawn waste and spraying with wildflower seeds. "You drive up I-81 now and instead of hillsides of black coal or black residue, it's all wildflowers," he explains with a smile.
Beaty eventually started working for a company in Philadelphia that specialized in recycling construction waste and finding gems among the wreckage. He bought a warehouse to store all his finds. Architectural salvage became a side business, and then a full-time occupation.
Three years ago, Beaty was joined at Provenance by partner Chris Donna, and then, a year and a half ago, by another partner, Scott Lash. Lash was a bond trader who spent his weekends restoring houses to relieve the stress. He would come to Provenance for supplies. "I was tired of being one of 800 people," says Lash. "Now I work in a salvage shop that's one of a handful."
With the help of Donna and Lash, the business has grown. They are currently in the process of relocating from the space on Fairmount Avenue to a large warehouse on Front Street. The new Provenance will be easier to navigate and have vast amounts of space for all their material.
Provenance's cache of goods comes mostly from renovations and demolitions of historic buildings. For architectural salvagers, taking something apart can sometimes be as delicate as putting it together, especially since most old buildings were built to last. "People always talk about the architects that build buildings," says Lash. "But something has to be said for the craftspeople—the bricklayers, carpenters and terra cotta workers. Those guys were unbelievable."
The fruits of Provenance's labor are visible all over the city, if you know where to look. They've recently done work for several local restaurants—including Marc Vetri's Amis and Percy Street Barbecue, Michael Solomonov (Zahav) and Steven Cook's (Xochitl) new venture —helping them incorporate reclaimed materials. The bartop at the renovated Sansom Street Oyster House is made of marble salvaged from Independence Mall, while the wood flooring had a previous life as beams in the Academy of Music.
Beyond large-scale projects, Provenance has something for everyone—whether it's a piece of wood for a custom desk, a salvaged sconce, or a 16-foot marble column to build a house around. "People know they can't get this stuff at Home Depot," jokes Lash. For customers intimidated by using architectural salvage, the partners at Provenance are more than happy to help with advice, or even some heavy lifting.
The word "provenance" means the origin or source of something valued. At Provenance, they see the beauty in salvage, in the act of saving something from the wreckage of renovation and demolition and returning it to a place of honor. Instead of filling our spaces with factory-made objects—one among many—we can make our experience of the world infinitely more interesting, and sustainable. Standing in their warehouse—feeling the reality of all the people who have sat on those pews, passed through those doors, opened those shutters or walked across that marble, surrounded by items that were once beloved, then lost—is an overwhelming experience of human connectedness. As Beaty puts it, "Everything has a story."
Provenance Old Soul
Architectural Salvage
1610 Fairmount Ave., 215-769-1817